Anfield striker under pressure to shelve appeal.
Watch Man City v Liverpool Live Streaming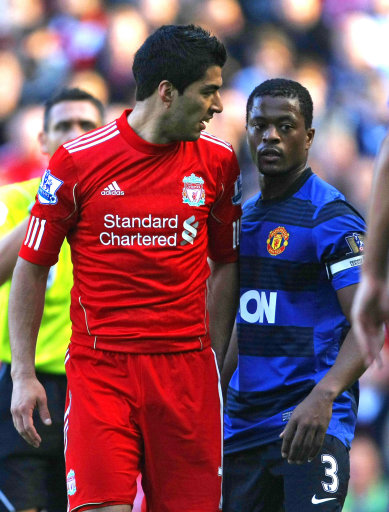 Luis Suarez is coming under increasing pressure to apologise to Patrice Evra as Liverpool were urged to shelve any thoughts of appealing against his eight-game ban.
This follows the release of the Football Association's report which found the Anfield striker guilty of racially abusing the Manchester United defender seven times in two minutes.
The FA delivered the written verdict on New Year's Eve and the withering contents of the 115-page document exposed the full details of Suarez's clash with Evra at Anfield on October 15.
Piara Powar, executive director of Football Against Racism in Europe, said: 'Luis Suarez and Liverpool have the right to appeal, but we would call on the club to think again about their public campaign to dispute the charges.
As a club with a good international standing the vehemence of their campaign is unquestionably causing them reputational harm.'
SOURCE: Daily Mail
As yet Liverpool have declined to comment too much in the light of the full findings of the FA report and indeed whilst Luis Suarez's legal representative suggested that his client would appeal the original ban, there is a good chance that the Merseyside club will elect to avoid the possibility of an extended ban that could come from such an appeal, in order to attempt to move on from the entire incident.
Join the Best Football Manager game now, Its Free!