Blackburn Rovers striker reacts to Anfield 'defiance'.
Watch Liverpool v Wigan Athletic Live Streaming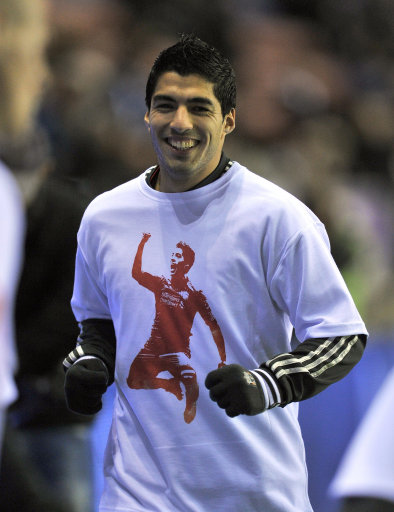 Liverpool could damage their reputation if they continue to insist Luis Suarez is not guilty of racist abuse, says Blackburn striker Jason Roberts.
Suarez was banned for eight games for racially abusing Patrice Evra.
Liverpool decided not to appeal against the ban but issued a strongly-worded statement defending the player.
Roberts said: "Liverpool's stance of saying he's done nothing wrong goes against the spirit of our league. When you read the report, it's quite ugly."
The commission's report stated that the Uruguayan striker had used the term "negro" seven times in around two minutes and criticised him for providing "unreliable" and "inconsistent" evidence at the hearing.
Liverpool decided not to appeal against Suarez's ban, but issued a statement saying it was their "strongly held conviction… that the Football Association and the panel it selected constructed a highly subjective case… based on an accusation that was ultimately unsubstantiated".
Roberts, who has campaigned for Kick It Out, told BBC Sport: "Liverpool must think long and hard about how they are perceiving this.
"They are a proud club with lots of fans of different cultures and nationalities and it's important to think about how they would feel about being treated in the same way.
"Knowing people are from different nationalities and have different cultures is an important part of building your brand. You also have to know that players certainly don't accept being spoken to in that way."
SOURCE: BBC Sport
Liverpool's stance on Luis Suarez is certainly a confusing one. Having stated fairly strongly following the initial eight match ban handed to the Uruguayan that they would fight the punishment, but would wait until the full details of the investigation were released.
Those details were eventually forthcoming but on reviewing the findings Liverpool opted against an appeal but still asserted that their striker was innocent of the claims. Some view this stance to be contradictory and others believe that if the Anfield side truly believed that their player was not guilty of the offences outlined in the report then they would surely appeal.
Of course there is the very real chance that the Merseyside club felt that the risk of an unsuccessful appeal, which could in turn lead to a lengthier ban, was not worth taking.
Indeed it appears that as well as Liverpool's defiance on the issue, including the wearing of shirts in support of Luis Suarez, has in fact merely exacerbated an issue that was already a potential can of worms in the first place.
Join the Best Football Manager game now, Its Free!