Is a January Etihad Stadium move on the cards?
Watch Man City v Man United FA Cup Live Streaming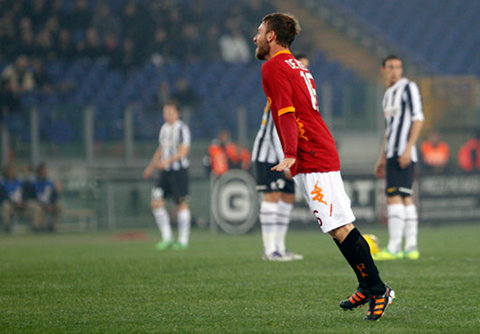 Roma's hopes of hanging onto Daniele de Rossi have been dealt a blow with the revelation that the midfielder has been learning English.
De Rossi made the admission while practicing his language skills on a teacher at his daughter's school, who coincidentally is a former Manchester United scout.
The fact that the Italy international has been having language lessons would seem to quash the theory that he would never consider leaving his boyhood club and will come as a serious setback to the Roma directors who are desperate to hang on to their vice-captain.
Roberto Mancini has described him as "the perfect fit for Man City" and is reportedly lining him up to plug the big gap in midfield that will be left by Yaya Toure's departure to the African Cup of Nations.
De Rossi is out of contract in the summer and his club may be forced to cash in on him if he refuses their latest offer, a slightly desperate £5m-a-season deal, which even includes a £21m release clause allowing him to leave if he changes his mind.
SOURCE: Independent
Let's just go over that one more time:
A teacher at Daniele de Rossi's daughter's school used to be a Manchester United scout.
Can that really be just coincidence, or is there also interest from Old Trafford?
Sir Alex Ferguson could certainly do with someone of de Rossi's stature in midfield, but the Red Devils may find themselves unable to compete with arch rivals Man City in terms of wages.
Roberto Mancini loses Yaya and Kolo Toure to the African Cup of Nations this week, and Owen Hargreaves has yet to prove himself fit enough to deputise on a regular basis.
Furthermore, Mancini appears to have lost much of his trust in Nigel de Jong.
At which Manchester club will Daniele de Rossi fill the gap?
Join the Best Football Manager game now, Its Free!