Is the Old Trafford grass greener than that at San Siro?
Watch the Premier League Live Streaming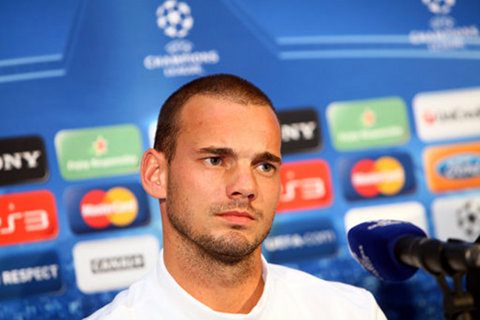 Reports in Italy claimed 27-year-old Sneijder, who is valued at around £30million, could be on his way as Inter try to raise funds to sign rebel City striker Carlos Tevez.
The player is under contract with the Italian giants until 2015 and insisted he is happy at the San Siro. But he would not completely dismiss the idea of moving on.
He told Voetbal International: "If I must give a percentage for it, I think I am 90 per cent certain I will stay (until at least the summer). I enjoy myself here at the moment and at this point I don't have anything to choose from.
"I don't say that I am 100 per cent certain, because something unexpected can always happen."
SOURCE: Daily Mail
Wesley Sneijder – quite the flirt, isn't he?
Manchester United certainly need improvements in midfield after Paul Scholes retired – and that was certainly proven against Newcastle United last night.
Sneijder though, is not that man – despite his constant refusal to fully commit to Internazionale.
As Sir Alex Ferguson told Il Corriere dello Sport last September, "Sneijder is not the ideal replacement for Scholes. He's a fantastic player but he was not who we were looking for to replace Scholes.
"Only Xavi and [Andres] Iniesta are comparable to Scholes."
Sneijder concurred.
"I don't like playing in central midfield at all," said the Dutchman.
"I am an attacking player not a central midfielder… I always had the ball, it's true, but I like to be further forward closer to goal… Better a second striker than a central midfielder. But in all I prefer to be behind two strikers."
Join the Best Football Manager game now, Its Free!