Will Anfield's big money signing prove himself worthy of a price tag that he had no control over or is he destined to fail to live up to expectations he could never have hoped to meet?
Watch Liverpool v Stoke City Live Streaming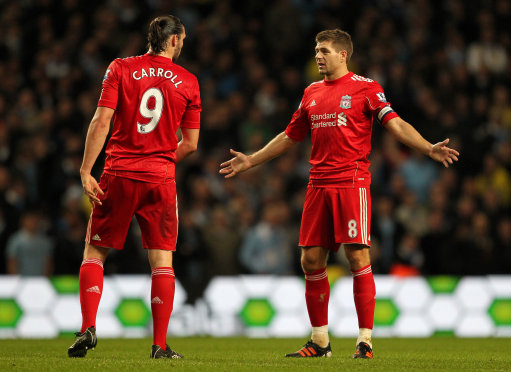 The moment Liverpool forked out £35m for Newcastle United striker Andy Carroll there was a fairly good chance that despite logical calls to point out that a player has no control over how much a club spends for his services he will in the end be judged on the cost of his services, and in many ways that fee is a cross that the England international will have to bear for some time yet.
The big powerful forward is close to celebrating a year at Anfield and the jury is very much still out on whether he has what it takes to really make an impact at the Merseyside club and regardless of how Kenny Dalglish or Carroll's team-mates look to defend the 23 year old, and they deserve credit for doing so, there can not be many who feel that the striker has proven himself worthy of a regular start at Liverpool.
In many ways the ban handed down to Luis Suarez has left Carroll with a run of first team games that could very well shape his future at Liverpool. The youngster may sink or swim in the coming weeks and whether he does or not could lead Kenny Dalglish to a conclusion either way as to whether the powerful striker has what it takes to make it at the club.
There were of course many pundits and supporters, both Liverpool's or followers of opposition sides, who were already sharpening their knives ready for Carroll to put a foot wrong the moment he sealed his move from Newcastle United and whilst it would've been unfair to draw any conclusions as to the success of such a signing in the first few months, after a year many will have wanted to see some tangible proof that Andy Carroll is a player of quality.
Newcastle United's relegation to the Championship in many ways benefited Carroll, it gave the Gateshead born striker the chance of regular first team football, arguably in a league that was more suited to his robust style of play. He excelled as Chris Hughton guided the Mapgies to the title and in the first half of last term clearly had the confidence in his own ability to start the season with a bang, a bang that had many 'in the know' using superlatives with alarming regularity and essentially building up expectations that the forward is still trying to meet.
Kenny Dalglish had been brought in to Anfield to exorcise the triple demons of Roy Hodgson and Messrs Hicks and Gillett, the Liverpool legend's arrival had put a full stop to a lengthy period of gloom that pervaded the last season of Rafa Benitez's tenure at the club, all in all whilst the general air of elation that grew from a former favourite's return had it's positive knock on effects for Carroll it also once again led many to perhaps expect too much, and more importantly, too soon from the new arrival.
He, like Luis Suarez, was seen as a figurehead that Liverpool as a club could look to as the side looked to usher in a new golden era and many quickly forgot that bedding in a whole new strike pair is a tough ask. It is very rare for a football club to dump the old and bring in the new with such speed, usually such a process is a calculated measured act. Fernando Torres's decision to push for a move to Chelsea left Dalglish with no choice other than to act swiftly.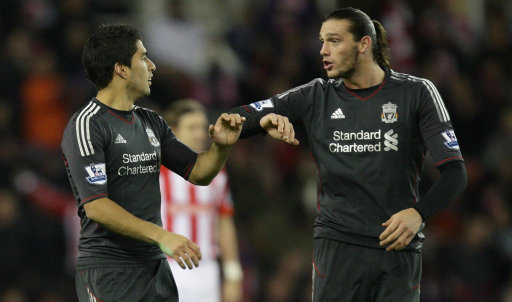 Last term there were signs, on occasion, that Carroll did have what it takes to become a cult hero at Anfield but niggling injuries and knocks meant the striker could never get a good run in the team, could never build an all important relationship with his Uruguayan strike partner.
Many have surmised that as a pair the two are not on the same wavelength and whilst that may be true at present, one should not underplay the fact that as a pair, what the two players bring in terms of attributes; Suarez's speed of thought, intelligent distribution, turn of pace and instinctive finishing and Carroll's hold up play, physical strength and ability in the air, complement each other perfectly.
Many have drawn parallels, possibly unwisely or prematurely, with Kevin Keegan and John Toshack, perhaps is is that very model that Dalglish was looking to replicate, but clearly these things take time and time in the modern game is a precious commodity so rarely offered to managers and players alike.
The football media's need to break down and over analyse and dissect a player weaknesses, be they on or off the field, may well have had a part to play in Carroll's inability to make an impact. Indeed Kenny Dalglish makes very reasonable retorts to this very phenomenon during his post match press conferences when he is invariably asked questions about his striker, during which the Scot will look to detract talk from any individual and back to the team as a whole.
As most post match press conferences a reporter will almost certainly discuss Andy Carroll's 'lack of confidence' as if it was a given that such a problem existed. This is all of course part and parcel of how the media treat 'big name players'. The Liverpool striker is going to have to expect a certain increased level of scrutiny from the media throng, he is going to have to try his best to not give the press the ammunition to shoot him down, and Dalglish for his part will look to defuse the situation, to play down any negative aspects and similarly not applaud to loudly as and when the forward get's it right.
Part of that managerial process must be to avoid mollycoddling and that is why in private Kenny Dalglish will certainly have stated to Carroll that at present his performances, on the whole, are not befitting his status at the club. Whichever way you cut it, whichever way you present the statistics, six goals in 32 appearances is simply not good enough. Clearly a striker can not just be judged on his goal tally but it's not like the Liverpool man has been providing assists by the bucket-load.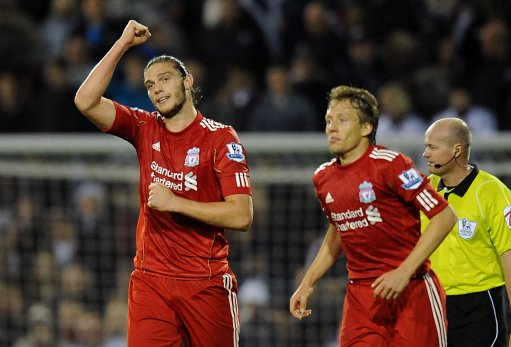 Almost all strikers are ruled by the confidence in their own ability. Unlike their team-mates what they offer and give to a team is more easily measured. They live or die according to their goal tally, whilst that may be unfair or unjustifiable is not really relevant but it's a fact nonetheless.
Carroll, oddly enough much like Torres since his move to Chelsea, now appears to be trying too hard. That lethal edge has been blunted by self doubt. The Liverpool striker now thinks before he elects where to receive the ball rather than letting instinct lead the way.
Fernando Torres is stuck in the same vicious circle at Stamford Bridge, a lack of faith in his own ability has led to a striker trying to force the issue, trying to make things happen artificially rather than reacting without thinking. It's a crisis that can happen to any striker and is all the more likely to haunt a young player, on whom too much expectation has been placed.
This is why the second half of the current campaign will play a big part in Carroll's overall footballing career. If you look at the second half of the season and were to predict, using extremes, two paths the striker could take could lead to defining his time at Anfield.
In a positive scenario Carroll will find his feet, score goals regularly, look less lethargic, his mental confidence leading his body to follow. A run of good results and perhaps the beginning of a burgeoning partnership with the returning Suarez could leave Fabio Capello to name the big front man in his Euro 2012 squad. A second, most negative road could see a continued lack of effective displays, perhaps leading to a last gasp addition being brought in just before the end of January, a run out of the first team and yet more speculation about a move away from that club that forked out £35m for his services.
So this leads to inevitable thoughts about what road Carroll will take. Will he prove to be an expensive mistake or will he make it and the year to now was just evidence that he is a work in progress?
Only time will tell but the very least the young striker deserves is more time to prove himself and that time is now.
Join the Best Football Manager game now, Its Free!