Christopher Samba ready to leave Ewood Park.
Watch the Premier League Live Streaming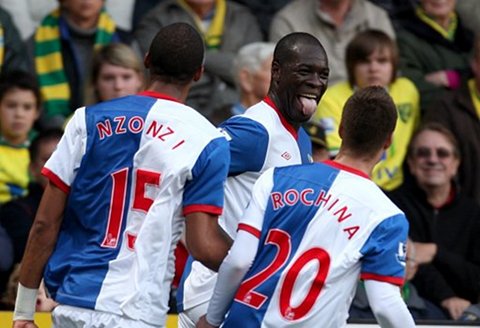 Blackburn Rovers defender Christopher Samba says he has grown disillusioned at Ewood Park, and may seek a transfer, with Tottenham Hotspur, Queens Park Rangers and Paris Saint-Germain at the head of the queue.
"Recently, mentally, it's been difficult for me," said Samba in an interview with French publication L'Equipe.
"I have tried to keep up my levels of performance, but I feel the time has come for a change for me. The club is not changing at all. I'm resigned to that.
I've always put the interest of the club before my own. I've put in so much for them, and always tried to lead by example here, but things have not happened as [the owner] said they would. I hope people understand me."
QPR had an offer of £5m rejected earlier this month, but are thought to be considering upping their bid, while the Guardian claim Spurs boss Harry Redknapp is readying a £7.5m bid for the giant centre back.
However, it was PSG that Samba elected to praise publicly.
"That club has reached another level, it's not the PSG of a few years ago. They have Leonardo, Ancelotti … I'm sure they will bring in great players. We shall see if the interest is confirmed or not, but it would be good for me to return home. The most important thing is to find an ambitious club. I would love to experience something different."
Join the Best Football Manager game now, Its Free!