Etihad Stadium striker in mad cap antic shocker.
Watch the Premier League Live Streaming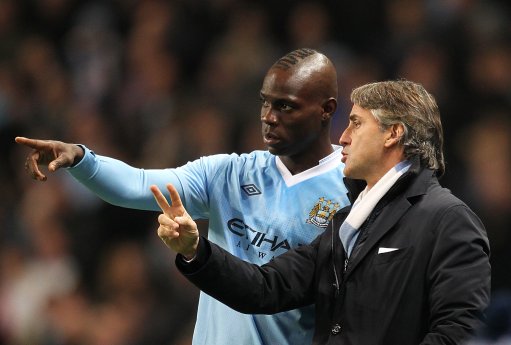 Mario Balotelli's penchant for eccentric behaviour continued on Thursday when the Manchester City striker walked into a local college and asked a student where the toilets were located.
Balotelli, who featured in City's Carling Cup tie with Liverpool on Wednesday evening, parked his Bentley outside Xaverian College at around 1.30pm before walking into the canteen and making the inquiry.
After using the facilities the 21-year-old Italy international went into the staff room to speak to teachers before spending 20 minutes walking round the college campus accompanied by students.
Eighteen-year-old Edward Gasson was sitting in the canteen when Balotelli arrived out of the blue. "Balotelli parked his Bentley outside, then came in and was asking where the toilets were, then he went to the teachers' staff room," he told the Manchester Evening News.
"After that he was just walking round campus like he owned the place and everyone was following him around.
"I'm a City fan so it was amazing to see him but it was a bit ridiculous for him to come here – you would never expect it to happen."
A spokesperson for the Catholic college said: "Xaverian was delighted to receive a surprise visit from Mario, who chatted to some of the students at one of Manchester's most successful colleges.
"We weren't able to enrol him on any courses but he is welcome back anytime."
SOURCE: Guardian
Mario Balotelli is a walking talking anecdote. The Man City man can barely leave his house in the morning without his activities finding themselves in the daily papers and it appears that yesterday was no different. It does seem that the young Italian is a very likeable chap who is ready and willing to spend time with the general public whilst simultaneously appearing fairly zany (not a word we use lightly).
Expect a bio-pic of the young striker to sweep the Oscars in 2030.
Join the Best Football Manager game now, Its Free!