Villa Park boss wants to switch his England man for Anfield's England man…apparently.
Free goal alerts on your iPhone or iPod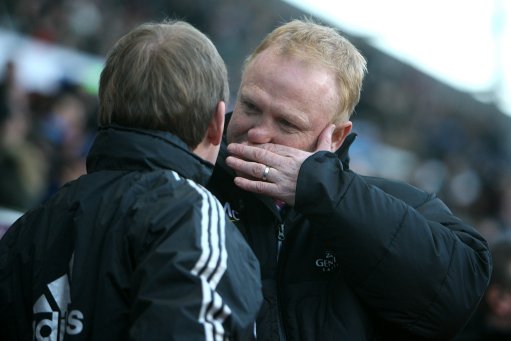 LIVERPOOL boss Kenny Dalglish has quickly rejected an Aston Villa inquiry for £35million striker Andy Carroll – proving that he wants the striker to stay at the club.
Sunday Express Sport can reveal that Villa manager Alex McLeish has tried to tempt Liverpool into a swap deal involving Carroll and his £24million hitman Darren Bent.
With indications coming out of Merseyside that England striker Bent was on Liverpool's wanted list, the Midlands club contacted Anfield proposing an exchange deal.
Dalglish was adamant he didn't want Carroll to leave and so any transfer discussions were cut short.
With Luis Suarez in the midst of an eight-game ban, Dalglish remains confident the 23-year-old former Newcastle star will regain the form which gained him three England caps.
But Villa are likely to try again in the summer if Carroll continues to struggle in front of the Kop.
SOURCE: Express
It appears someone has put two and two together and come up with about 16 million. Basically there has been a great deal of speculation regarding Liverpool's pursuit of new attacking additions, a pursuit that is probably rooted in reality, that led to Kenny Dalglish's apparent interest in Aston Villa striker Darren Bent. If you then couple that rumour with the average form displayed by £35m man Andy Carroll you can of course surmise that Alex McLeish may consider swapping one striker for the other. Seems far fetched though and doesn't make a great deal of sense.
Bent is a consistent marksman, one of the most consistent in the Premier League in recent years, but arguably the former Tottenham and Sunderland man has never received the plaudits he deserves and there is some talk of a breakdown in the relationship between the 27 year old striker and Villa Park boss McLeish, talk that appears to stem solely from a report that the Aston Villa man preferred to go Xmas shopping rather than sit and watch Liverpool beat his Midlands side last month.
Carroll hasn't had a great first year at Liverpool but Dalglish doesn't seem likely to give up on the Newcastle United man just yet, not least because the Anfield boss will feel that the big forward has the ability to fulfill his undoubted potential and also because he won't want to so quickly offload a player that cost the Merseyside club a huge sum.
Both strikers will be fighting to be in Fabio Capello's Euro 2012 plans and no doubt both could make the plan to Ukraine and Poland but currently the Aston Villa man would appear to have the upper hand in that particular race for recognition.