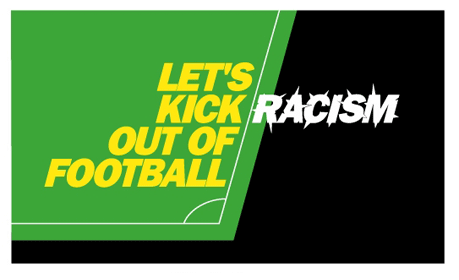 In 1993, the campaign 'Kick It Out' was established as an organisation with the brand name 'Let's Kick Racism Out of Football,' with a bid to challenge discrimination in football around the world. The PFA ensured teams often warmed up before games with t-shirts on with the 'Kick It Out' slogan on, as well as placing the logo on advertising boards and around English grounds so all fans and players could read them.
However, other countries are less involved in the reduction of racist abuse as the UK. Countries such as Spain and many South American countries have been charged for racist related incidents more than most others. During a friendly between England and Spain in 2004, Shaun Wright-Phillips and Ashley Cole were subjected to monkey chants throughout the match from the Spanish supporters. After the game, Spain's top 2 sports newspapers Marca and AS barely referred to the racist chanting, and instead highlighted their side's performance instead. So some foreign countries had different opinions on racism, and with foreign players flocking to the English Premiership, it was only a matter of time before more controversial comments were said.
Former Manchester United star Andy Cole has twice been racially abused by a large number of fans. The first was during United's Champions League match against Juventus, and the second whilst on England duty in 2002 against Slovakia, where fans abused him, and fellow striker Emile Heskey. But one of the most famous reactions to racist abuse was that of Cole's teammate Eric Cantona. In the game between United and Crystal Palace in 1995, the Frenchman launched a Kung-Fu style attack on a Palace fan. Cantona leapt at the fan with both studs aimed at his chest, and the attempted to throw several punches at the supporter. Afterwards, Cantona claimed the fan had shouted racial insults towards him. The Frenchman was banned for 9 months.
One of Cantona's former clubs Leeds United were in hot water in 2002, again because of racist chants from supporters. During an away game at Leicester City, various chants came from the 2,200-strong Leeds section including "You all live in a town full of Pakis", sung to the tune of Yellow Submarine, and "Turkish scum", directed at Leicester's Muzzy Izzet. According to one witness, who complained to football's anti-racism group 'Kick It Out': "It was not a minority, either." A theme was starting to build that racism was still apparent in football, however the abuse wasn't coming from on the pitch.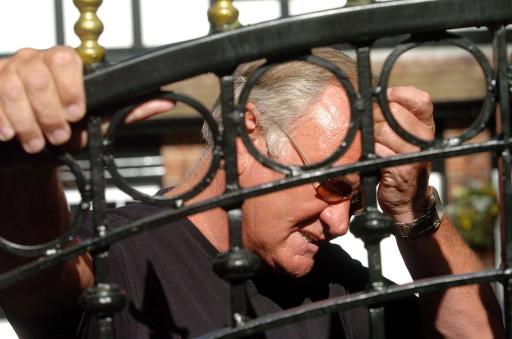 But it wasn't just some fans making racist comments, but a pundit as well. On the 21st April 2004, Ron Atkinson resigned from ITV after he was caught making a racist remark live on air about the black Chelsea F.C. player Marcel Desailly. Believing the microphone to be switched off, he said, "…he is what is known in some schools as a f****** lazy thick n*****". Although transmission in the UK had finished, the microphone gaffe meant that his comment was broadcast to various countries in the Middle East. He also left his job as a columnist for The Guardian "by mutual agreement" as a result of the comment. Later, Atkinson said "I am an idiot, but not a racist," but by then the damage was done.
So after racial remarks from fans and a pundit, in 2005 we saw one of the first racial comments from a player to a fellow player that was punished. Anderlecht's Nenad Jestrovic was sent off for racially abusing Liverpool's Momo Sissoko in a Champions League match at Anfield. The red card was shown just 5 minutes after the Serbian had come off the bench. He was banned for 3 matches.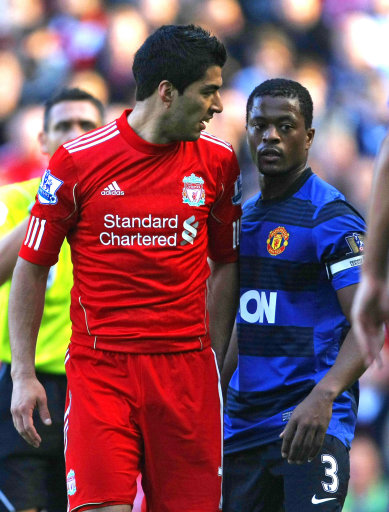 Just 3 months ago, another Liverpool player was involved in racist remarks between players, only this time Luis Suarez was the guilty party, not the victim. In one of the most controversial incidents of the Premiership, the Uruguayan Striker had a heated discussion with his opponent, Manchester United's defender Patrice Evra in the match between the two sides in October. After the game Evra immediately complained to the referee and French TV channel Canal+ that Suarez had made offensive comments about the colour of the Frenchman's skin. In a long winded investigation the FA awarded Suarez an 8 match ban for racial comments, using the word "negro," and when asked by Evra why the striker was kicking him, for responding "because you're black." Liverpool immediately defended their player, stating he had the full backing of the club and he was not a racist. In the match against Wigan this year, the players warmed up wearing t-shirts with a picture of their teammate Suarez on them. The club were highly criticised by the media for this, with claims they were "undermining the 'Kick It Out' campaign."
The reason this is possibly the most controversial incidents of racial abuse in England is there was a difference in translation. Suarez claimed that he was not using the word "negro" in a racist context, as it is not seen to be offensive in Uruguay. His international teammate Alvaro Pereira supported Suarez, and recently said; "If I am called 'negro', I start laughing. My team-mates call me 'negro' and in South America it can also be used in an affectionate way." However, Suarez was still making a comment about Evra's race, and the FA were not impressed with his evidence. Liverpool feel the ban is too much for the offense. They believe it is unfair to receive an 8 match ban for not being racist, but using a racist word. Especially when Jestrovic was only given a 3 match ban when he played against Liverpool. In spite of this the club reluctantly accepted the ban, as an unsuccessful appeal would likely increase the length of the ban.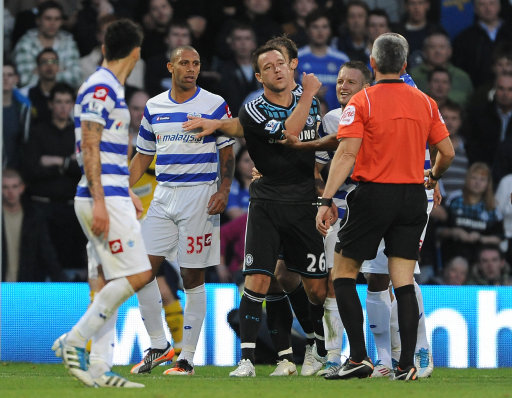 Just a week after the Liverpool match at home to Manchester United that sparked these events, England captain John Terry played at QPR in an extremely ill tempered affair. During the match, Terry had a heated discussion with opposition keeper Paddy Kenny and defender Anton Ferdinand, where Terry was reported to say; "Shut up Anton you f****** black c****." Terry said he was disappointed people would believe these reports, as video evidence started to appear on the internet, which suggested the rumours were true. At one point, the Englishman claimed that the cameras turned on him at that moment, just after he said "I never called you a…" The Chelsea captain has been charged by the Crown Prosecution Service and is now facing an FA investigation.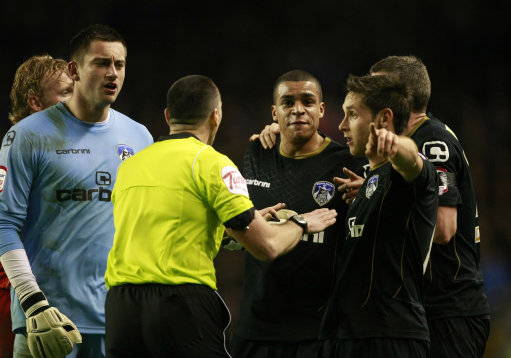 A bad week for English football, became an even worse couple of months, as during this weekend's FA cup 3rd round match at Anfield between Liverpool and Oldham, 20 year old Tom Adeyemi was reduced to tears. Midway through the 2nd half, the Oldham player was collecting the ball from in front of the Kop, when he started to confront the fans after reacting to something said to him. Adeyemi pointed to the fan as he was visibly upset. He had to be comforted by his teammates and Liverpool players Dirk Kuyt and Steven Gerrard. One witness has said; "I heard a single voice shout, "You f****** black b******." He spun round with shock on his face and started pointing at the crowd, from where the shout had come" A man has been arrested and then bailed in connection with the incident.
So it is clear that racism is still a big issue in football, and with 3 huge incidents in the same amount of months, the FA have a lot of work to do to clamp down on racist abuse in football. But what can be done. As a football fan, I as well of many would want to see this fan get a life time ban, which is expected. But with the police getting involved, the fan could be in some serious trouble. He could face a fine and criminal record, which will affect his friends and family's opinion about him, and also his work could be hugely affected.
And for the players? We all know John Terry wouldn't get a lifetime ban from football if he was found guilty, but what separates him from the supporters who say the same words? If found guilty, Terry is likely to get a hefty fine, and possibly a ban longer than Suarez, probably 10 or so games, as the evidence against Terry is reportedly more clear-cut, with no cultural differences or translations to deal with. He may also be stripped of the national team's captaincy, and possibly the Chelsea captaincy as well, both if he is found guilty. If so he could possibly lose a lot of his sponsors, as he is one of the main faces of Umbro, and also appeared in adverts for Nationwide and Samsung. It is rumoured he could lose up to £5 million from this if punished by the FA. His reputation could be damaged by being found guilty, just like the supporters.
So is this how the FA and other governing bodies should face racist abuse? With a zero tolerance attitude? Once the individual is found to be guilty then a hefty punishment should be put in place. But Liverpool fans won't agree with this, as Suarez was found guilty of using a racist word, but not necessarily being racist and using it in an offensive manner. Only Suarez knows if he did, but it still remains an issue. It seems the only way we can reduce racism is to punish the offender severely. This means it isn't worth doing. Instead of a slap on the wrist, such as what Jestrovic received for his comments, the offender gets an extremely high penalty which shows the rest of the world it won't be tolerated, and will slowly decrease the usage of such remarks.
This is the same theory that was developed to reduce the act of diving in football, where it was a yellow card offense to play act, making it not worth the risk and so reducing the amount of diving in the sport. However, referees still haven't conjured up the courage to stick by this penalty, and so only occasionally show the yellow card for play acting. Let's just hope the FA don't do this for racism, but instead realise it's a disgusting and terrible thing that should be removed from the game and in life as quickly as possible. Youngsters are being set an example by their heroes in football, but the FA need to set an example by clamping down on racism, so that kids know just as well as adults that it will not be accepted.