Better than expected for Emirates Stadium club.
Free goal alerts on your iPhone or iPod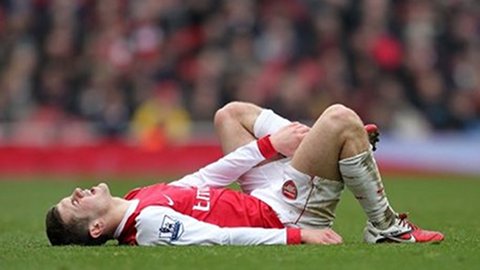 Arsenal midfielder Jack Wilshere has been ruled out for the rest of the season, according to the Daily Mail, but reports elsewhere indicate a more optimistic view.
The 20 year-old starlet was waylaid until February at the beginning of the campaign with an ankle complaint, but last week suffered a setback.
Arsenal manager Arsene Wenger was reluctant to put a definitive date on when Wilshere would return to the Gunners side, and erred on the side of caution as the new injury was not in the same place on the ankle as the initial problem.
Wilshere's first injury – which has kept him out of action for the last six months – was a stress fracture to the ankle, and indeed so is the new problem.
There are two elements of (relatively) good news for Arsenal fans though.
The Daily Telegraph write that Wilshere's initial stress fracture has healed well, and that the second injury is a more minor stress fracture.
Despite the Daily Mail indicating that his campaign is over, Arsenal remain hopeful that Wilshere will play again this season, and could well feature in the run-in.
That will be of great importance to Arsenal, who are desperately chasing a UEFA Champions League place, and for England, who of course will play in UEFA Euro 2012 this summer.
Having impressed hugely in his five appearances for England so far – despite often playing the unfamiliar role of anchor midfielder, Three Lions boss Fabio Capello would almost certainly like to include Wilshere in his squad for the European Championships.
At present though, prospects look decidedly bleak.