Show off your football talent and win a chance to compete at the Emirates Stadium.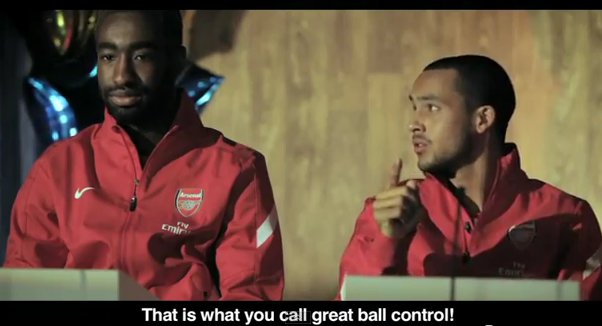 Indesit Football Talents is a terrific contest which football fans throughout Europe can register and enter for a chance to be selected by Arsenal, AC Milan, Paris Saint Germain and Shakhtar Donetsk to wear their colours and be coached by living legends of international football at a real football training camp.
Finalists will then have the honor of playing at the Emirates Stadium.
The contest commenced on 20 February 2012 and is open to men and women who are at least 18 years old.
Participation requires registration at the website football.indesit.com or the Facebook page facebook.com/IndesitFootball.
Once registered, candidates can create a profile and will have until 13 April 2012 to upload material showing off their football talent in the form of videos (lasting no more than three minutes), photos (in .jpeg format no bigger than 1MB) or texts (maximum 2,000 characters).
The goal is for candidates to show off their football talent and demonstrate a true passion for the game.
64 winners will then be selected by by the online community and a jury comprising representatives of Arsenal, AC Milan, Paris Saint Germain and Shakhtar and on 15 May 2012, four 16-man squads will compete at Emirates Stadium!
Selection will be in two stages: the first will be carried out by the entire online community, who can vote their favourite performances (by 13 April 2012) to produce a shortlist of 250 contestants.
In the second stage, a panel from each club will then judge the shortlisted candidates and on 26 April 2012 announce the four teams, each with 16 players, who will meet in London on 15 May 2012.
The celebrity judges broadcasted in the viral videos promoting the activity online are Arsenal's Vermaelen, Djourou, Walcott and Wilshere, AC Milan's Boateng, Aquilani, Emanuelson and Bonera, PSG's Lugano, Maxwell, Jallet and Hoarau and Shakhtar Donetsk's Mkhytaryan, Srna, Luiz Adriano and Pyatov.
This star studded jury will select the lucky winners, who will then see their dream come true, that of being coached by international football legends and playing in one of the world's most famous football stadiums wearing their club's strip.
Well? What are you waiting for! Click on the image below to find out more and to sign up for the Indesit 'Football Talents' Challenge