Etihad Stadium boss makes a series of wrong decisions that call into question his ability to bring major silverware to the big spending club.
'No, he won't play for me again'.
Roberto Mancini is a charismatic manager. A man who, if you'll forgive the hideous cliche, wears his heart on his sleeve but this term his inability to follow up on his many 'soundbite' friendly threats has seen the Man City boss lose his credibility, lose his dressing room and lose the Premier League title.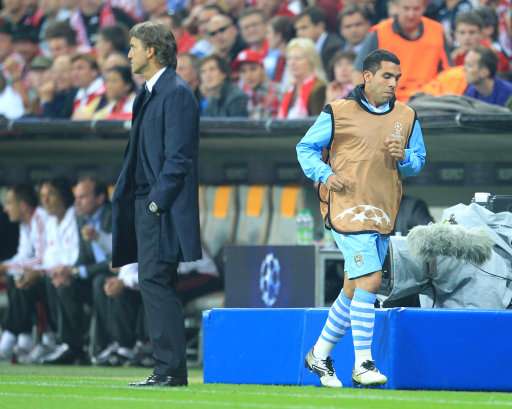 The Italian was right to state his intention to never pick Carlos Tevez again after the stunt he pulled at the Allianz Arena, that decision seemed all the more deserved when the Argentine striker went AWOL and sunned himself on a Buenos Aires beach. However he relented. For whatever reason, and motivation for doing so still seems unclear, Mancini 'welcomed' back the striker and in an instant lost the respect of a great many of his Etihad Stadium faithful.
Remember that Tevez was already on his millionth warning after the former West Ham and Man United man had stated his intention to leave the club for a myriad of reasons that included pretty damning verdicts on the city of Manchester itself. To allow him back into the fold smacked of inconsistencies and it was a decision that made him look weak.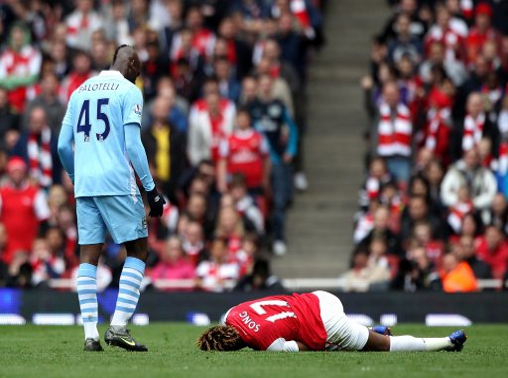 Then we come to Mario Balotelli. A player whose off field antics, whilst highly amusing are on the face of it only slight distractions to his playing ability. A bigger problem however is the young Italian striker's inability to consistently make an impact coupled with his questionable temperament that has led to 20 bookings and four red cards in the space of just 58 Man City appearances.
Then you factor in the blow-ups he repeatedly gets involved with, both with his own team-mates and the opposition, this was a constant problem when Balotelli was at Inter Milan and it was a situation that led to his time at the San Siro becoming untenable, a situation that appears to have repeated itself at Man City.
Mancini has consistently admonished his young charge but has dealt with the player, who has compared the Man City boss to being a father figure, in a manner which could be deemed as very bad parenting. Consistently telling off his child without following up such statements with actions that prove that his threats are not idle ones.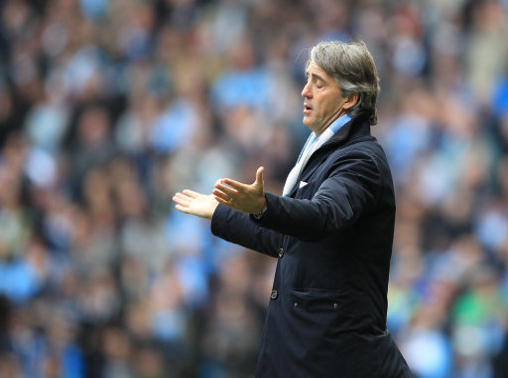 Following the Arsenal encounter, where Balotelli was lucky to not be sent off in the first half only to compound matters by collecting a red card late on, Mancini stated his dissatisfaction with his striker and when pressed stated that he would 'probably' look to sell the player. What are the chances that he relents and opts to keep the troubled forward?
Indeed Mancini even stated that he hoped that the FA would hand Balotelli a stiff punishment, which is a fairly odd statement for a manager to make of his own player. The fiery boss is all to willing to air his dirty linen in public and it's a trait that will in the end only damage the club as a whole.
Indeed one expects Mancini to once again not follow up words with actions and it wouldn't surprise me if Mario Balotelli makes another appearance for Man City before the season is over.
If Man City fail to land the title, and that seems a stone cold certainty now, then the reason he has not done so will in the main be down to Mancini's weak managerial style a weakness that could well see the amiable 47 year old out of a job in a month or so.
Whilst the comparison probably doesn't need to be made and is perhaps a tad irrelevant to the situation as a whole, one does wonder just how a manager like Sir Alex Ferguson would've dealt with serial headache providers Tevez & Balotelli? It seems highly unlikely that the Scot would allow their disruptive influences to become an issue and perhaps therein lies Mancini's fault.
The Man City boss has not been strong enough, has lacked conviction and let two overly pampered stars dictate and disrupt a club that clearly has the talent to reap the rewards of the huge investment pumped into it and perhaps owner Sheikh Mansour will learn from the lessons of the past few months and look to appoint a manager with a task master mentality, proven Premier League credentials and the courage to punish and offload those who hold the club back.
Jose Mourinho anyone?
Join the Best Football Manager game now, Its Free!