CaughtOffside correspondent Jason Mitchell takes a closer look at the participants at next month's Euro 2012 finals.
Download the Free CaughtOffside App Now at the iTunes App store by CLICKING HERE
Most of the media attention Ukraine has received in the lead-up to Euro 2012 has focused on the country's status as tournament co-hosts. Fears over the behaviour of supporters, perceived threats of racism and questions marks over whether they should have even been allowed to host the tournament have taken centre stage away from the actual team playing in the tournament.
At present, Ukraine are ranked 50th in the FIFA World Rankings. They will be making their first appearance at the European Championships and go into the tournament off the back of a string of fine performances.
Victories in friendly matches against Austria, Estonia and Bulgaria will give the side, who qualified automatically as hosts, a major boost, while a 3-3 draw back in November against Germany will also offer Oleg Blokhin's men some encouragement.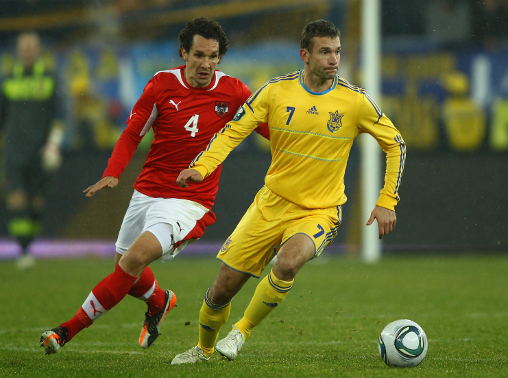 As the team's captain, former Ballon d'Or winner Andriy Shevchenko remains the nation's most high-profile footballer. Shevchenko, currently playing for Dynamo Kiev, has a 0.44 goals per game ratio for his national team and although he has suffered with a back injury in recent times, if he can maintain his fitness, the 35-years-old will still provide a threat for opposition defences. A major international tournament, on home soil, may well be the ultimate send-off for a man who was once considered one of Europe's elite players.
Another familiar name is that of former Liverpool striker Andriy Voronin, currently of Dynamo Moscow. Often deployed behind Shevchenko, one of Voronin's best attributes is his adaptability, as his former manager at Liverpool, Rafa Benitez, explains.
"He is clever," Benitez says. "He can play behind a main striker, lead the line himself or come into the attack from the flanks."
However, Voronin may find it difficult to get a start due to the emergence of the talented left-footed forward, Andriy Yarmolenko. The 22-year-old, dubbed the "new Sheva" by the Ukrainian media, can be deployed either on the wing or as a striker and has reportedly been recommended to AC Milan by his current club team mate, Andriy Shevchenko.
"He has all the makings to become a top level player," Yozhef Sabo, former vice president of Dynamo Kiev said. And a goal against Germany in November helped to back up that viewpoint. In total, Yarmolenko has scored 28 goals for Dynamo Kiev in the last two seasons and already has 7 goals for the national side.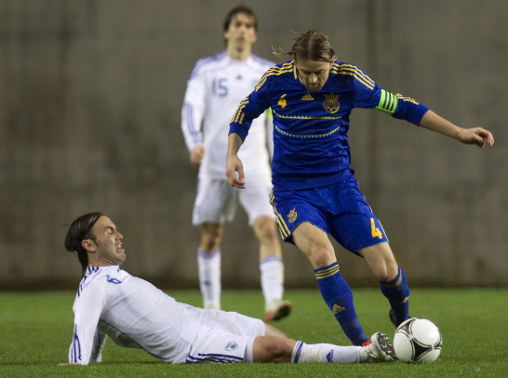 Bayern Munich's Anatoliy Tymoshchuk, another recongisable name, will play in central midfield and act as the spoiler for Blokhin's side. The team tends to play on the counter-attack in order to make use of the pace provided by the likes of Yevhen Konoplyanka on the wings.
However, the squad has been depleted through a combination of injuries and suspensions, especially in defensive areas. Manager, Oleg Blokhin, will have to cope without the injured former Barcelona and current Shakhtar Donetsk centre back Dmytro Chygrynskiy.
And the team also has a goalkeeping crisis. Experienced shot stopper Oleksandr Shokovsky, who has 92 caps, picked up a shoulder injury and Shakhtar keeper Oleksandr Rybka remains sidelined due to a failed drugs test. Rybka tested positive for the prohibited substance diuretic and received a 2-year ban.
Additionally, Andriy Dikan of Spartak Moscow was hurt badly in a collision with Aleksandr Kerzhakov during a match in March. Dikan suffered multiple facial fractures, craniocerebral trauma and a concussion and his participation in the tournament was firmly ruled out.
As a result, Blokhin has been forced to name two uncapped goalkeepers in his provisional squad – Oleksandr Bandura and Maksym Koval.
Ukraine find themselves in Group D at Euro 2012, along with England, France and Sweden. The quality of those sides makes qualification for the knockout rounds extremely difficult, but with home advantage, the possibility should not be completely discounted.
Possible First-Choice Starting XI
Andriy Pyatov
Oleg Husyev — Olexandr Kucher — Taras Mikhalik — Yaroslav Rakitskiy
Marko Devic — Anatoliy Tymoshchuk — Ruslan Rotan — Yevhen Konoplyanka
Andriy Yarmolenko
Andriy Shevchenko
Provisional Squad (still to be trimmed to 23):
Oleksandr Bandura, Oleksandr Goryainov , Maxym Koval, Andriy Pyatov; Bohdan Butko, Olexandr Kucher, Vitaly Mandziuk, Taras Mikhalik, Yaroslav Rakitskiy, Yevhen Selin, Yevhen Khacheridi, Vyacheslav Shevchuk; Olexandr Aliyev, Denys Garmash, Oleg Husyev, Yevhen Konoplyanka, Serhiy Nazarenko, Ruslan Rotan, Taras Stepanenko, Anatoliy Tymoshchuk, Andriy Yarmolenko; Andriy Voronin, Marko Devic, Artem Milevskiy, Yevhen Seleznyov, Andriy Shevchenko
Kit