CaughtOffside correspondent Jason Mitchell takes a closer look at the participants at next month's Euro 2012 finals.
Download the Free CaughtOffside App Now at the iTunes App store by CLICKING HERE
Michal Bílek's Czech Republic team go into Euro 2012 with considerably lower expectations than in recent international tournaments. Indeed, the current side seems a far cry from the side which entertained so much at Euro 2004. While that side of superstar players, which included Pavel Nedved, Petr Cech, Karel Poborsky, Tomas Rosicky, Vladimir Smicer, Milan Baros, Tomas Galasek and Jan Koller, reached the semi-finals of that tournament, the current side have far more modest hopes.
From that Euro 2004 squad, the only big names remaining are Baros, Cech and Rosicky, while Jaroslav Plasil, Tomas Hübschman also return. Vladimir Smicer, formerly of Liverpool, now operates as general manager.
Qualification for the tournament was problematic for the Czechs. Their campaign got off to a disasterous start as they were beaten 1-0 by Lithuania. Two further losses to current European and World champions Spain added to the problems and the side scraped a draw against Scotland in controversial fashion.
Bilek finds his position as head coach under threat and a recent survey in the country found that 96% of fans wanted to see him sacked. However, current skipper Tomas Rosicky believes the Czech Republic side still has a lot of quality and should not be underestimated.
"You can't compare this team with some of its predecessors, the situations are different," he told the Official Arsenal website. "But we will do everything we can to get through the group and go from there. I am confident that we can put on a good showing. We have some experience, with guys like Petr Cech and I, but also some good up-and-coming players."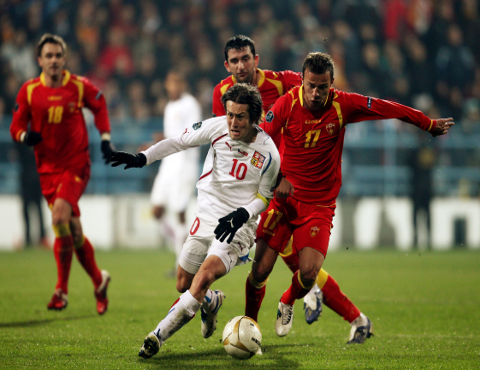 Rosicky himself is perhaps key to the Czech hopes. The talented midfielder, nicknamed 'The Little Mozart' for his ability to orchestrate play on the pitch, has just completed his best ever individual season for Arsenal. After being plagued with injury problems for so long, many believed Rosicky's best days were behind him. Yet his rejuvenation, characterised by charging runs from midfield and his creative spark, became a key feature of the Gunners' play in 2011-12.
Goalkeeper Petr Cech also goes into Euro 2012 full of confidence. The Chelsea man's heroics in the UEFA Champions League final, which included a penalty save in extra time and two penalty saves in the subsequent shoot out, helped win the trophy for his club.
This Czech side operates with a 4-2-3-1 formation, a popular system for teams going into this tournament, and the main benefit it provides is attacking strength in midfield. The pace on the wings, provided by Vaclav Pilar on the left and Jan Rezek on the right, lends itself to counter-attacking and that is likely to be the team's best goal-scoring strategy.
However, unlike Cech and Rosicky, striker Milan Baros' position in the current set-up is far less secure. Baros, just about clinging to his place in the team, faces pressure from FC Nuremberg striker Tomas Pekhart, formerly of Tottenham and Southampton. Baros' movement and workrate is of great use to the side, but his lack of goals in recent times must be a concern.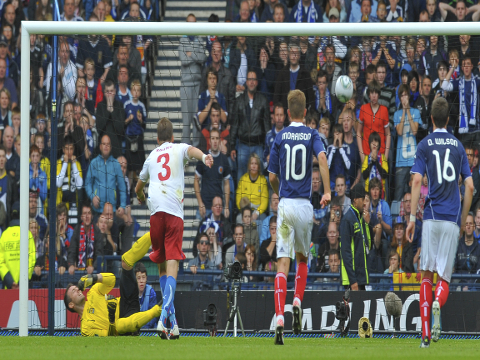 In fact, defender Michal Kadlec was the team's top scorer in qualifying – and two of his three goals were penalties, including a controversially awarded spot kick against Scotland. Although Baros should begin the tournament as Bilek's preferred striker, it would be little surprise if he found his place under threat as the tournament progresses.
Another key feature of the Czech team is the familiarity that many of the players have at club level. Left-back David Limbersky and winger Vaclav Pilar both play for FC Viktoria Plzen, while Jan Rezek and Petr Jiracek also played there until 2011. All four are likely to start in the first choice XI and Vladimir Smicer admits this was a conscious decision. "It would have been be stupid if we had not made the most of that," he admitted. Captain Tomas Rosicky has also pin-pointed Jiracek as a key figure in the side and the player to watch out for.
Although the team looks a long way off challenging for the Euro 2012 crown, Rosicky believes they could be helped by the relative kindness of the draw. "We could have been drawn in a harder group. I think it will be very even," he said. The Czech Republic find themselves in Group A along with Greece, Russia and co-hosts Poland. They begin their campaign against Russia on 8 June.
Possible First-Choice Starting XI
Petr Cech
Theodore Gabre Selassie – Tomas Sivok – Michal Kadlec – David Limbersky
Jaroslav Plasil – Petr Jiracek
Jan Rezek – Tomas Rosicky – Vaclav Pilar
Milan Baros
Full Squad:
Petr Cech, Jan Lastuvka, Jaroslav Drobny; Theodor Gebre Selassie, Michal Kadlec, Marek Suchy, Roman Hubnik, Tomas Sivok, David Limbersky, Frantisek Rajtoral; Jan Rezek, Tomas Rosicky, Milan Petrzela, Jaroslav Plasil, Vaclav Pilar, Tomas Hübschman, Daniel Kolar, Petr Jirá?ek, Vladimír Darida; Tomas Necid, Milan Baros, Tomas Pekhart, David Lafata
Czech Republic Kit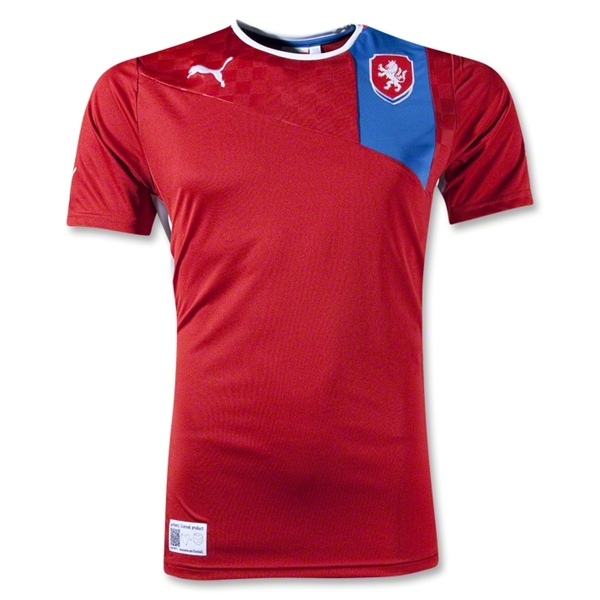 Join the Best Football Manager game now, Its Free!