Old Trafford boss lines up move for top notch duo.
Download the Free CaughtOffside App Now at the iTunes App store by CLICKING HERE
You're next! Baines and Modric top United's hit-list after Kagawa swoop
Feisty Ferguson lands Japanese star from Borussia Dortmund to begin his battle to rip the title back from Manchester City's grasp
Sir Alex Ferguson has struck the first blow in his fight to win back the Premier League title by signing Shinji Kagawa.
Fergie's Manchester United have agreed terms with Borussia Dortmund for the midfielder with an initial fee of £12million, rising to a potential £17m.
But Ferguson has no intention of stopping there.
Everton and England left-back Leighton Baines and ­Tottenham's Croatia midfielder Luka Modric are still in his sights as he seeks to hit back after Manchester City's dramatic last-gasp league success.
SOURCE: Daily Mirror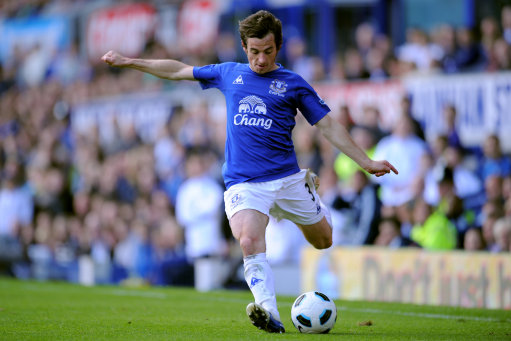 Sir Alex Ferguson would do well to beef up his squad ahead of the new season. Having lost the title to Man City, who's strength in depth is frightening, and then seen Chelsea start to splash the cash, the Man United boss will be all to aware of his own side's shortcomings.
The capture of Shinji Kagawa was a wise one and the addition of this pair would also help to resolve possible 'problem' areas in his first team.
Patrice Evra put in a fairly average season, by his own high standards, last term and there is not much in the way of a back-up plan for the left hand side of Man United's defence. Leighton Baines is a proven performer and a player who could not only keep the French international on his toes but would inherit his spot as and when he bows out.
Luka Modric is surely more likely to leave Tottenham now that the North London club failed to secure a Champions League spot and a move to Old Trafford would surely tempt the Croatian schemer and Ferguson could well do with the attributes the 26 year old can offer.
The Tottenham man could offer Ferguson some much needed creativity and with Kagawa in an advanced role ahead of him with perhaps a more sedate midfield presence in the form of a Michael Carrick or a Paul Scholes the Man United first team would have a more balanced forward thinking feel.
Join the Best Football Manager game now, Its Free!