Dream Ticket.
Do you want to win a pair of tickets to the football match of your choice? Of course you do, you're not an idiot are you. Maybe you want to see Real Madrid take on Barcelona or Man City take on Man United. Maybe you yearn to see your national team play at the highest level. Well now we can help make your dream a reality.
In order to win this great prize you will first need to download our free app, which is available for iPhone, iPod Touch and iPad.
All you have to do is follow these incredibly easy instructions.
1) All you have to do is CLICK HERE to download the free CaughtOffside app for iPhone and iPod Touch or CLICK HERE to download the CaughtOffside for iPad app.
If you already have the app then you can move directly to step two.
2) Check In the England Vs Italy. To do this simply tap on the 'fixtures' tab and then the 'UEFA Euro 2012' button and then the 'England v Italy' event where all you need to do is hit 'watching', 'attending' or 'tracking'
Simple as that.
We will then pick one person at random among those who has checked in and they will win this marvelous prize. You have until the final whistle of the England v Italy match to enter.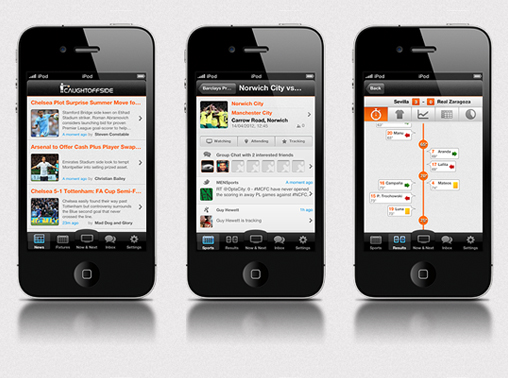 The Terms and Conditions:
1. The England v Italy EURO 2012 check in competition and any other competitions run by fanatix are not sponsored by Apple, nor is Apple involved in any way whatsoever.
2. The winner will be selected at random from all users who check in (watching/attending/tracking) to the England vs Italy Euro 2012 fixture on Sunday 24th June on the fanatix network (including the CaughtOffside mobile app) prior to the completion of the match.
3. In order to enter the England v Italy EURO 2012 check in competition, users must be older than 18 years of age.
4. The winner will receive two tickets to a sporting event of their choice taking place between June 30th and December 31st 2012.
5. Tickets will be sourced by the fanatix team to a maximum total value of £500 including fees and are subject to availability.
6. No travel, accommodation or additional expenses whatsoever will be incurred by fanatix.
7. The England v Italy EURO 2012 check in competition will in not be effected by other fanatix competitions or prize draws during the month of June.
8. The winner will be notified via email within 7 days of the close of the competition and will have 14 days to respond (the claim period). In the event that fanatix does not hear back from the winners within the claim period, the competition is declared null and void.
9. The competition is not open to employees or contractors of fanatix, or any person directly or indirectly involved with those who have worked with the fanatix company.
10. fanatix has the right to change, cancel or extend prize offerings at our absolute discretion during the running of the competition.