Italian giants keen on Etihad Stadium threesome.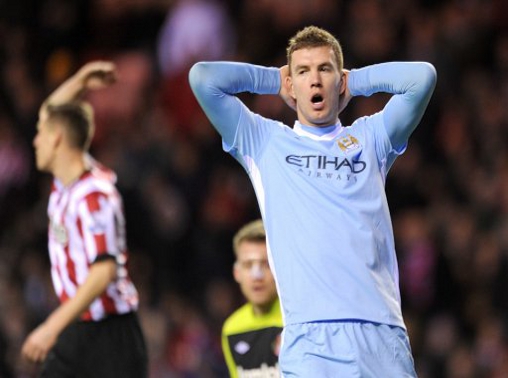 Manchester City discuss Dzeko deal with AC Milan
The striker could be set to leave the Premier League champions with a move to Italy looking likely after officials from both clubs met last week to discuss a potential transfer
The Serie A giants retain an interest in Dzeko, though. City do not want to accept a significant loss on the 26-year-old, but they are desperate to offload a striker given how crowded their forward line has become. Their hand is further strengthened by the fact that Dzeko, a childhood Milan fan, favours a move to San Siro over a possible transfer to Turin.
Milan have their cash-flow concerns, as evidenced by their initial willingness to sell Thiago Silva to Paris Saint-Germain, but they are in a position to meet City's asking price for Dzeko: £19m in deferred payments over a four-year period.
SOURCE: Goal.com
AC Milan boss Massimiliano Allegri's interest in Dzeko may well have some connection to a possible sale of Zlatan Ibrahimovic, and indeed the Bosnian is a similar style of player to the Swedish international, albeit yet to get near to hitting the heights the 30 year old San Siro forward has reached.
Edin Dzeko may have every reason to wonder why Roberto Mancini doesn't rate him as a regular first team starter and the Italian in return has ever reason to suggest to the 26 year old Bosnian that the likes of Sergio Aguero, Mario Balotelli and Carlos Tevez could all be considered preferable options to the Man City boss.
That said Dzeko, after an average first six months at the club, did get into gear last term and scored goals at will, 14 in 16 Premier League starts plus a large number of appearances from the bench. There are those who suggested that the powerfully built lanky forward was not so good at registering against clubs from the top half of the table however the former Wolfsburg man did manage four against Tottenham, a brace against Man United.
Dzeko would probably jump at the chance of a move to the Serie A side, especially if he's been informed by Mancini that he can expect a similar stop/start campaign at the Etihad Stadium this coming season.