Old Trafford boss ready to splash the cash.
Sir Alex Ferguson preparing to take a punt on Brazilian youngster Lucas Moura
A horse racing enthusiast, Ferguson is ready to take a gamble on 19-year-old Moura
Ferguson is huge admirer of Brazil – but has had his fingers burned when trying to inject some Samba style into his sides.
Kleberson was the most notable flop, signed in the same summer as he went on the hunt for Ronaldinho.
Anderson has so far failed to fulfil his early promise having been described to Ferguson as potentially the best player in the world when arriving from Porto in 2007.
The 24-year-old's inconsistency continues to frustrate and he still looks some way short of the player Ferguson once believed could succeed Paul Scholes.
Another midfield starlet, Rodrigo Possebon, failed to make the grade, while there remain high hopes for the Da Silva twins, with Rafael handed a new contract this summer.
United are understood to have bid around £29m for the attacking midfielder with negotiations currently at an impasse.
Sao Paulo now say they will offer Moura an extended deal on improved terms to keep him at the club, but the belief in Brazil is that they will sell if United up their bid beyond £30m.
But he will also be aware that similar gambles on Ronaldo, Ronaldinho and Kaka would have paid dividends before they ended up in the arms of Europe's biggest clubs.
SOURCE: Manchester Evening News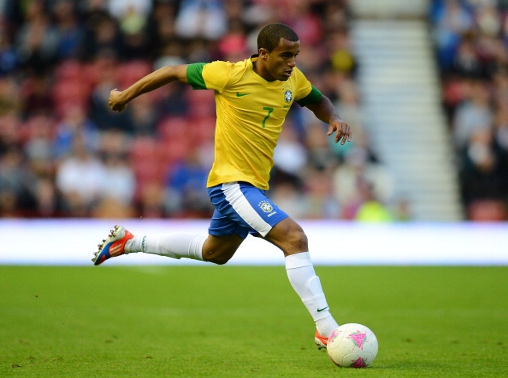 Clearly spending £30m on any teenager, let alone one who has yet to experience European football, is a calculated risk but perhaps Man United boss Sir Alex Ferguson is willing to take such a gamble as he looks to wrestle back the Premier League title from local rivals City.
It's clear that Lucas Moura has the potential to be a big star and he has a host of prospective suitors and Sao Paulo are clearly interested in selling the Brazilian international but only at a price that they feel is worthy of their prized asset.
Having brought in Shinji Kagawa and Nick Powell Ferguson may feel he hasn't done enough to improve his Old Trafford squad after the relative disappointments of last term. Indeed Man United were unlucky to be pipped to the post by Roberto Mancini's side in the domestic title race but the failures in both the Champions and then Europa League may well prove more unsettling for the Scot.
Having made a bit of £29m it doesn't seem such a stretch to see Man United push on into the early £30m+ range in order to snap up a player they clearly feel has the ability to make a big impact in the Premier League.
Man United's midfield does look a little rigid. Paul Scholes has perhaps one more year in him and the veteran is not the player he once was. Gone are the advanced runs and impressive goal tally, the 37 year old is more geared to intelligent distribution and breaking down opposition advances.
Michael Carrick did well in the second half of the last campaign but still doesn't offer all that much going forward. Anderson has seemingly gone backwards in recent seasons and Darren Fletcher is still to return to the fold following illness.
Lucas Moura would add drive and creativity to the Man United first team as well as adding a more natural link between midfield and attack. Yes £30m is a big price to pay but in today's market that is the price a side has to pay for a big talent and according to this source, it's a price Sir Alex is willing to pay.
---
Looking for football tickets? Check ticket prices for all of top matches from the top European leagues tixdaq.com. Serie A, Bundesliga tickets, La Liga tickets, Eredivisie tickets and more. Compare the market before you buy with tixdaq