COS columnist Jason Mitchell takes a closer look at the latest Emirates Stadium signing.
Arsenal completed the signing of Santi Cazorla on Tuesday, with the pocket-sized Spaniard becoming Arsene Wenger's third major signing of the summer transfer window. Although he has represented his national team at both Euro 2008 and Euro 2012, and despite earning a total of 45 caps for the World and European Champions, he remains somewhat of an unknown commodity to those outside of Spain.
In his home country, however, Cazorla's reputation in much more assured. In 2007, he was named the Spanish Player of the Year by weekly magazine Don Balón and in 2008 he displaced Joaquín from the national side. Last season Cazorla scored 9 goals and contributed 5 assists for Malaga, meaning that he was directly involved in almost 1/4 of all of the team's goals.
In the opinion of many Spanish media sources, Santi Cazorla and Jordi Alba were the two best La Liga players not playing for either Barcelona or Real Madrid in 2011-12. Alba, of course, now finds himself back at Barcelona, where he began his career as a schoolboy and Cazorla, for his part, turned down a move to Real Madrid four years ago.
"There are many other things in football besides Real Madrid," said Cazorla at the time. "It's clear that it is possible to say 'no' to them. There is no doubt that they are a great team, but I also feel very satisfied and valued at my club."
Cazorla's club, at the time, was Villarreal and he made a large contribution to the Yellow Submarine, helping to transform them from also-rans to genuine title contenders. In 2007-08, with Cazorla a key fixture in the team, Villarreal finished ahead of Catalan giants Barcelona and were runners up to Real Madrid.
A few injury-ravished seasons followed, but Cazorla eventually returned to full fitness and helped Villareal to yet another Champions League qualification place during the 2010-11 season.
Unfortunately for Cazorla, despite his loyalty to Villarreal, he was sold at the end of that season for financial reasons. The club needed to compensate for the huge debt they had racked up and Cazorla was seen as more dispensible than their other star player, Guiseppe Rossi. Big-spending Malaga forked out €21m for the playmaker.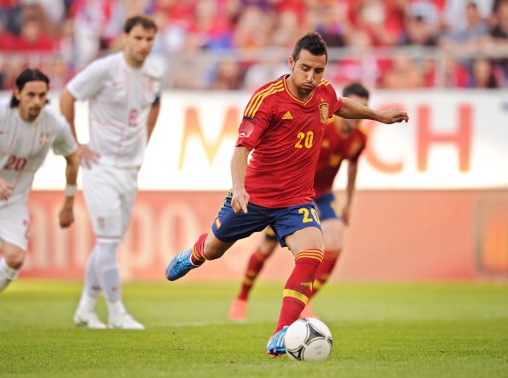 However, despite his impressive performances for Magaga, history has repeated itself and Cazorla's transfer to Arsenal is designed to once again aid the club's current poor financial situation.
Malaga's loss is clearly Arsenal's gain. The North London club have inherited a supremely talented and versatile player, capable of playing right across the midfield. Although he favours an attacking midfield position, over the years, Cazorla has proven himself equally adept at playing from a deep-lying position and, despite his stature, he is more than willing to contribute to the defensive side of the game.
Over the course of the entire 2011-12 season, Cazorla had a passing success rate of 86%. He offers a genuine threat from set pieces, scoring 4 direct free-kicks last season; an attribute which could prove vital if, as expected, Robin van Persie leaves the club.
At the age of 27, Cazorla is in the prime of his career; a career in which he has impressed some of the top managers in the game, including Manuel Pellegrini, Luis Aragonés and Vicente del Bosque. Although his reputation in England has yet to be established, it will surprise very few people in Spain if Santi Cazorla follows in the footsteps of David Silva and Juan Mata and becomes a major success in the Premier League.
Jason Mitchell's book, 'A Culture of Silence: The Story of Football's Battle With Homophobia' is available for Kindle devices from Amazon.co.uk
---
Looking for festival tickets? Check ticket prices for all of top events taking place this summer with our friends at tixdaq.com. V Festival tickets, Leeds Festival tickets, Reading Festival tickets, Bestival tickets and more. Compare the market before you buy with tixdaq