The Emirates Stadium boss has admitted he is open to making last minute moves in the transfer market, here are five targets we suggest he keeps his eye open for.
Arsène Wenger will only take players with "something special" in the final week of the transfer window.
"My approach is that we have a very strong squad but if one or two opportunities arise we will take it," he said.
"We are still in the market in some positions. We have experienced players in midfield like Arteta, Cazorla and Rosicky plus some young very promising players like Oxlade-Chamberlain, Ramsey, Coquelin and one or two in between age-wise like Diaby, who is coming back.
"We will only take players who have something special. We believe we have a very strong team and if we find the special player, we will do it.
"There's always a lot going on in the last week – in and out. We have some players who can go out, but overall there is always something happening in the last week. I have a clear idea of what I want to do, if it happens, it happens."
SOURCE: Arsenal.com
Having already brought in Lukas Podolski, Santi Cazorla and Olivier Giroud it appears that Arsene Wenger is still open to spending money on further additions in the final week of the transfer window. This is perhaps not all that surprising given the fact that first team regulars Robin Van Persie & Alex Song have left for Man United and Barcelona respectively, so with that in mind here are five players he may want to consider making a move for before midnight on the 31st of August.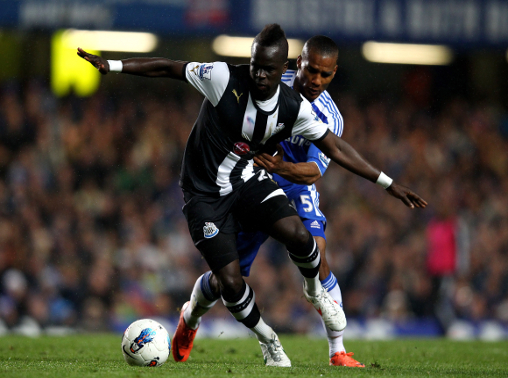 The St James' Park enforcer could be the ideal man to replace Alex Song.
Chieck Tiote has enjoyed two successful campaigns at St James' Park since his £3.5m arrival from FC Twente but Alan Pardew has himself admitted that he is concerned that his side's successes could lead to unwanted attention from prospective suitors.
26 year old Ivory Coast international Tiote may well himself be tempted by the chance to partake in Champions League football, an achievement he may feel is out of his reach at his current club, though it is worth noting that the player has publicly stated that he is happy at Newcastle United.
Wenger has earmarked moves for a myriad of defensive midfielders but as yet has not concluded a deal to sign one.
Tiote has made 53 appearances for Newcastle United and his only goal coincidentally came in the form of a wonder-strike that capped a superb comeback by the Toon Army as Pardew's men secured a 4-4 draw with Arsenal having been 4-0 down.