Time for the French midfielder to finally make an impact at the Emirates Stadium.
After two goalless draws at the beginning of the season, Arsenal's win against Liverpool saw two of their new signings, Lukas Podolski and Santi Cazorla, scoring for the first time for their new club. Yet, despite the new names on the scoresheet, and despite the much-publicised personnel changes at the club over the summer, the standout performer at Anfield was actually a largely forgotten man; a man who has now been at the club for six full seasons.
To say Abou Diaby's career has been plagued by injuries would be a massive understatement. Over the last few years, Arsene Wenger's press conferences have contained the words "Abou Diaby is on his way back" so often that it is almost become a catchphrase for the Arsenal manager. So when Wenger decided not to sign a new midfielder following Alex Song's departure to Barcelona, many supporters were tearing their hair out. They were all too aware that this meant the club were relying on Diaby's fitness.
Abou Diaby's injury problems began way back in 2006. After joining Arsenal in the January transfer window, Diaby initially impressed with his performances in centre midfield, drawing widespread comparisons, including from Wenger, to club legend Patrick Vieira and playing a role in Arsenal's progression to the 2006 UEFA Champions League final.
However, prior to the Champions League final, Diaby was on the receiving end of a horror challenge from Sunderland defender Dan Smith. The mistimed tackle shattered Diaby's ankle, ruling him out of action for eight months.
At the time, most supporters were unaware of the full severity of the injury. "It could have finished him," a member of the Arsenal medical staff explained. The doctors who operated on Diaby also warned him that his career could be over.
Abou Diaby's rehabilitation was gruelling, but he refused to let the tackle stop his career for good. He battled back and earned praise from the man he had been tipped to replace, Patrick Vieira. "It's not easy to come back from an injury like that," said Vieira. "He must be a strong player to do that. To make a full recovery, everything has to be right – the treatment, the support from the club and the help of the players around him. But most of all, the mind of the player has to be right."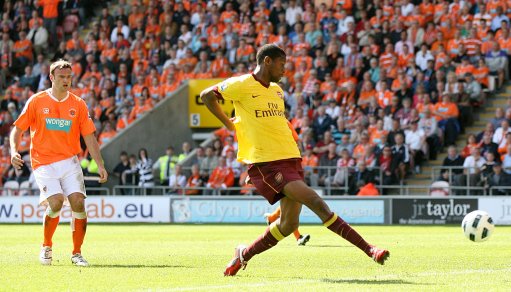 Wenger's reintroduction of Diaby into the Arsenal setup was an understandably cautious one. Diaby made a substitute appearance against Liverpool in the Carling Cup in January 2007 and he was mostly limited to substitute appearances for the remainder of the season, starting consecutive games only once.
As is often the case with serious leg injuries like Diaby's, although the player is able to make a recovery from the initial fracture, subsequent muscular injuries are inevitable. The body overcompensates for the injury, muscle use in the legs becomes unbalanced and extra strain is placed upon those muscles. For Diaby, most of his injuries have been related to his thigh and calf muscles. He has also undergone further surgeries on his troublesome ankle.
Nobody with any sense of compassion begrudges players picking up injuries, especially given the horiffic nature of the initial injury Diaby picked up when he was still very young. What has bothered many Arsenal fans is the fact that, with Diaby, these aren't just niggling injuries; he has been injured more often than he has been fit. And he has been earning a huge amount of money while sitting on the treatment table.
Over the course of the last five seasons, when he has been fit, Wenger has experimented with Diaby, occasionally deploying him on the left-wing or just behind the striker. The intention was clear: Wenger wanted Diaby out of the firing zone of central midfield in order to limit the potential for further injuries. But it is obvious to anyone who understands Diaby's game that central midfield is where he belongs.
Wenger's loyalty to Diaby has been described by some as 'absurd' and last season was the final straw for many fans. After missing almost the entire campaign, Arsenal bloggers everywhere were calling for Diaby to be shipped out. Most people felt he was destined to be remembered for 'what could have been', rather than what eventually was. Yet Wenger remained fiercely loyal and kept Diaby at the club, determined that the man he once likened to Patrick Vieira would not have a promising career destroyed by one horror challenge.
Diaby missed the summer's European Championships and instead spent his time in Paris, working with an osteopath on what he described as 'preventative work.' He also took exception to people labelling him as 'fragile' and decided to explain his issues in depth.
"In this environment you are quick to get stuck with labels," Diaby explained.
"People say that I'm fragile and although I understand why, I am not fragile. I have had three operations on my ankle, all for different problems but the result of that was that my body is unbalanced, especially in my legs. I have overused one over the other and to put everything back in place is not easy. I get injured. It's a fact but when people tell you you're fragile, it hurts. My problem is a biomechanical problem. I need to work daily on how to rebalance my body."
Although frustrating, the truth is that Diaby's injury problems are something that he has been simply unable to help. After several seasons of surgeries and rehabilitation, the club are quietly confident that he has made significant progress with his biomechanical issues ahead of this season.
It is also an inescapable fact that when Diaby has been fit and in the side for a prolonged amount of time, the side has done well. At the beginning of the 2007-08 season, for example, Diaby was playing well and the club were top of the Premier League.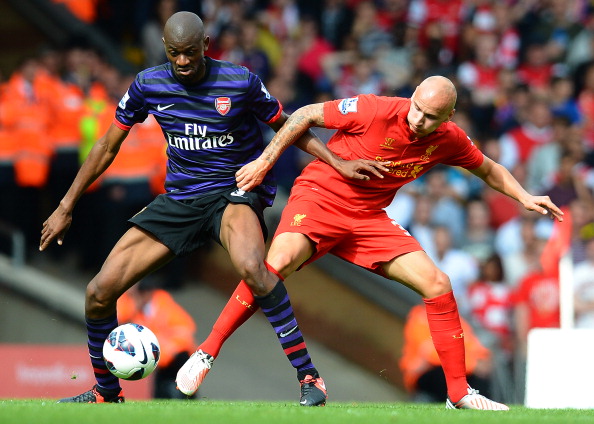 His man-of-the-match performance against Liverpool was a timely reminder of the undoubted quality he possesses. A superb display, which mixed power and finesse, drew more Vieira comparisons and a new comparison; this time to Manchester City's Yaya Toure. Yet many Arsenal fans remain understandably cautious. Why is this time different from the many other injury comebacks he has had? And is he really worth all the patience Wenger has had with him?
"Diaby is massive for us," Wenger said at his press conference after the Liverpool match. "He had a good pre-season and we gave him 45 minutes every three days. Now he looks, physically, in a good shape. There is more to come from him. I was highly worried about him while he was out, but I always stood behind him because he is a fantastic guy as well as a fantastic player."
Arsenal fans will be hoping the patience pays off. Cynics will say that Wenger must be delusional to believe that Diaby can go through this season injury-free. But then again, those same people likely said the same about Robin Van Persie last season.
Jason Mitchell's book, 'A Culture of Silence: The Story of Football's Battle With Homophobia' is available for Kindle devices from Amazon.co.uk
---
La Liga tickets
Compare ticket prices for all the big games in the Spanish league with tixdaq. Buy Real Mardid tickets, Barcelona tickets, Valencia tickets and Atletico Madrid tickets and many more with the leading ticket comparison site.