"Good things come to those who wait."
When Cesc Fabregas returned to Barcelona in the summer of 2011, many people questioned whether or not he would get into the Catalan club's first choice eleven. After all, he was joining a club which had just won La Liga and the Champions League and boasted the best midfield trio in world football; Sergio Busquets, Andres Iniesta and Xavi. Despite captaining Arsenal and performing to an extremely high standard, it was clear to many observers that Fabregas was going to have to play the waiting game.
Although the young Spaniard dismissed the comparisons, most experts felt that Fabregas was being groomed by his boyhood hero, Pep Guardiola, to eventually replace Xavi, who, by now, was into his 30s and approaching the twilight of his career. Of course, most felt Fabregas would still play plenty of games, but he would simply have to bide his time before becoming a true focal point in the team.
Yet, despite the success he had in 2010-11 with a 4-3-3 formation, Guardiola decided to experiment with the classic Johan Cruyff 3-4-3 formation at the beginning of 2011-12, allowing Fabregas to play regularly. Although he would often have to play wide, or in the 'false 9' role that he occupied for Spain during the 2012 European Championships, the fact remained that Cesc was firmly in Guardiola's first team plans.
For his part, Fabregas hit the ground running, finding goalscoring form in the early part of the season and bagging Supercopa de España, UEFA Super Cup and FIFA Club World Cup winners medals within a few months of his arrival. Yet, despite finishing the season with an impressive 15 goals and 20 assists, his performances noticeably dipped in the second half of the season and drew criticism from some quarters. Constant formation changes did not help and although he won four trophies in total, Cesc admitted his first season had ultimately been a disappointing one.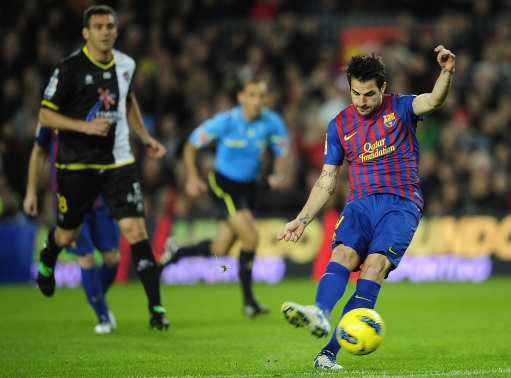 "Some people commented that I lacked something last season, including Guardiola," Cesc said. "I never really got to grips with the system. I had been playing another style of football and to take on board so much so quickly was difficult."
Following Guardiola's departure, Fabregas played a central role in Spain's European Championship victory, scoring twice, netting the decisive penalty against Portugal in the semi-final and assisting David Silva for the opening goal in the final. Ahead of the new season, he was understandably optimistic.
But new boss Tito Vilanova returned to the side's stable 4-3-3 formation and Fabregas has found himself on the fringes of the team. He has yet to play a full 90 minutes under his new coach and, more worryingly, did not get onto the field at all during his club's second leg Supercopa de España defeat at the hands of Real Madrid.
When asked about life as a substitute, Fabregas openly expressed his disappointment at the situation he finds himself in.
"I always wish my team-mates well and put a happy face on but everybody likes to play every minute of the season," he said.
"I came to Barcelona to compete, to learn and enjoy, not to sit wracking my brains. I will keep going, looking forward to the time that things change. I'm delighted to be a part of this team. When a coach tells me I have to go, I'll go. But I will not make it easy for him to do so, by any means."
Almost immediately, rumours emerged that Fabregas could depart Barcelona once again, with several sources linking Cesc with a sensational return to Arsenal and Fabregas reportedly arranged clear-the-air talks with Vilanova.
Despite Arsenal having the first option on Fabregas if Barcelona do decide to sell him, such a result is still considered unlikely. In reality, Fabregas is expected to stay and fight for his place. And, though he is clearly frustrated with life as a substitute, that may well be the best decision for his career.
Xavi is now 32 years old and though he looks more than capable of maintaining his high standards for a few years to come, Fabregas, at 25 years of age, is a younger, ready-made replacement.
Although he would prefer to be a vital part of the team now, even if it does mean playing in the 'false 9' or wide roles he played last season, having patience will ensure that, when the time finally comes for Xavi to wind down, Fabregas will be able to easily transition into his preferred central midfield role and make the position his own.
In the meantime, Fabregas simply needs to keep calm and play the waiting game that he was initially expected to play during his second spell at the club.
Compare ticket prices for the upcoming El Clasico matches between Real Madrid and Barcelona. Buy Real Madrid and FC Barcelona tickets for the first El Clasico of the season at the Nou Camp on 7 October and many more La Liga matches with the leading ticket comparison site.
Jason Mitchell's book, 'A Culture of Silence: The Story of Football's Battle With Homophobia' is available for Kindle devices from Amazon.co.uk