The Old Trafford wide-man is not a happy man.
Ecuadorian international Valencia believes that his camera was stolen by baggage handlers.
The 27 year stated via his Twitter account.
"Yes" he tweeted, "they rob you in your own country!
"They won't rob you anywhere else, these assholes that check your baggage in the airport robbed my camera."
Valencia, clearly angry, continued to vent on Twitter, "I hope they use it well, these f****ng fools. What a disgrace. What indignation.
"These fools checked my suitcase. They had already robbed me, they didn't want to check the other. They wanted me out of there quickly. How awful."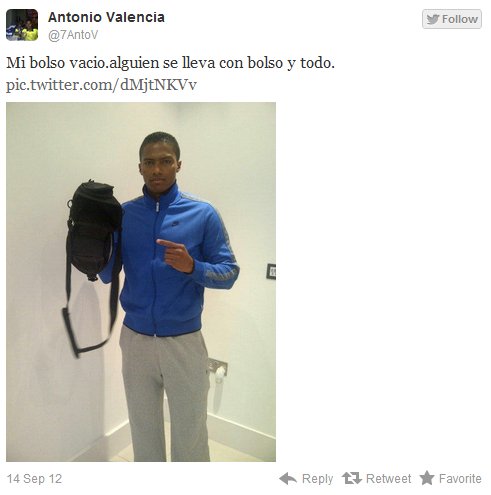 After this accusation Valencia may want to opt to carry his luggage onto planes in the future.
Compare ticket prices for the upcoming El Clasico matches between Real Madrid and Barcelona. Buy Real Madrid and FC Barcelona tickets for the first El Clasico of the season at the Nou Camp on 7 October and many more La Liga matches with the leading ticket comparison site.