A long list of deadwood the Emirates Stadium boss should look to offload at the earliest opportunity.
Arsene Wenger is as always operating on a fairly restrictive transfer fund policy that seems to negate the need to sell before he can buy, as illustrated this summer by the fact that the sales of first teamers Robin Van Persie and Alex Song covered the cost of new arrivals Lukas Podolski, Olivier Giroud and Santi Cazorla.
With this in mind, and with the Gunners boss probably thinking about further strengthening his Emirates Stadium squad, here are ten players he can happily allow to leave the North London club at the earliest opportunity.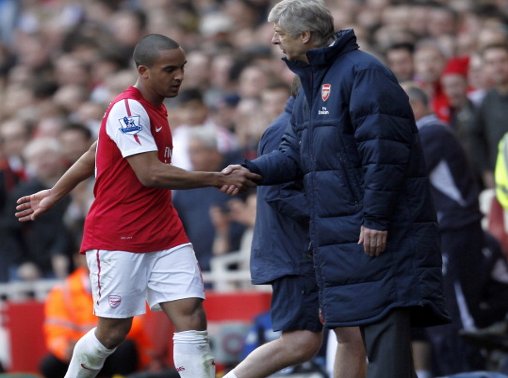 Theo Walcott
Arsene Wenger may well feel it is time to consider offers for the 23 year old England winger, he has said as much in recent interviews relating to the winger's contract talks.
Apparently the Gunners are not ready to give in the to the demands of a player who has not proven himself worthy of being in a bargaining position. As such the wide-man has found himself frozen out of first team affairs, making just one Premier League start from four matches this term.
Wenger can also be further buoyed by the form shown by Gervinho and the emergence of Alex Oxlade-Chamberlain, which could all point towards the Arsenal boss being open to offers to offload the former Southampton man in January instead of waiting to see Walcott leave for nothing next summer, something the prudently run club will surely not consider an option.