Sunday marks the biggest fixture in the Premier League calendar but this year the football might be of secondary importance.
The two most successful clubs in British footballing history meet at Anfield on Sunday but the occasion is about so much more than football.
Liverpool's most revered and successful manager Bill Shankly famously quipped: "Some people believe football is a matter of life and death; I am very disappointed with that attitude. I can assure you it is much, much more important than that".
The comment was meant in jest but even so, Shankly was wrong. In recent years, the game of football as a whole has shown an admirable willingness to rise above sporting rivalries and recognise issues of greater importance: Fabrice Muamba received support from across the world after suffering a heart attack on the pitch last season; likewise Styllan Petrov who was diagnosed with acute leukemia; while the whole country paid tribute to Wales boss Gary Speed who tragically died in November.
The independent report into the Hillsborough disaster, published last week, will lead to another such occasion on Sunday where a football match comes second to remembering history. The report finally exonerated the 96 fans who died on 15 April 1989 from blame and, shockingly, revealed that a police coverup had attempted to shift responsibility onto the dead for the mistakes of the authorities.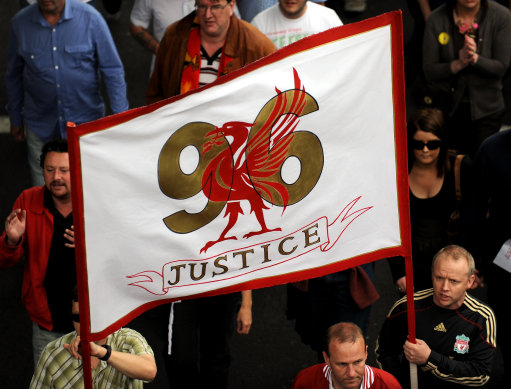 The first game at Anfield since the publication of the report sees Liverpool take on bitter rivals Manchester United. The two clubs have a long-standing mutual dislike, with historical, cultural and industrial roots. But at the centre of it is the fact that no other team has come close to winning as many top-flight English titles as Manchester United or Liverpool, with the Red Devils surpassing the Merseysiders' record with their 19th title in 2011.
While Shankly famously had a great relationship with United (while the Manchester's own legendary twentieth century boss, Sir Matt Busby, made over 100 appearances for Liverpool), the vitriol between the clubs' supporters has reached new levels in recent seasons, with the Luis Suarez/Patrice Evra affair last season cranking tensions up yet another notch.
There are many who believe that Sunday could be a watershed moment in the relationship between the clubs, where Manchester and Liverpool can come together and support one another in the face of equally tragic pasts, that include Hillsborough and the Munich air crash.
There is, of course, also the matter of three precious Premier League points to be won as well and, even if some wounds can be healed pre-match on Sunday, Liverpool would like nothing more than to get their first league win under Brendan Rodgers against United.
Wayne Rooney is out of the game but Robin van Persie is expected to be fit for United, while Evra is expected to be recalled. Ashley Young is out with a rib injury, however.
Liverpool are expected to recall all their senior stars after making 11 changes for Thursday night's Europa League clash in Switzerland.
Whatever else, this match promises to be emotional and fiery. The biggest fixture is the English football calendar is just around the corner. You'd be bonkers to miss it!