German giant starting to make an impact for Emirates Stadium side.
Laurent Koscielny returned to the Arsenal defence for their trip to Manchester City and emerged from the game as a goal scoring hero. His performance at the other end of the pitch was also impressive and drew plaudits, yet it was his central defensive partner who really shone as the Gunners extended their impressive start to the season, coming away from the Etihad with a well-earned point.
German international Per Mertesacker had a difficult first season in England. Although his ability to read the game is clearly outstanding, and although he demonstrated glimpses of the ability that has earned him 82 caps for Germany, there were too many times during the 2011-12 season where his lack of speed was exploited and, as a result, many wrote off his chances of succeeding in the fast-paced world of Premier League football.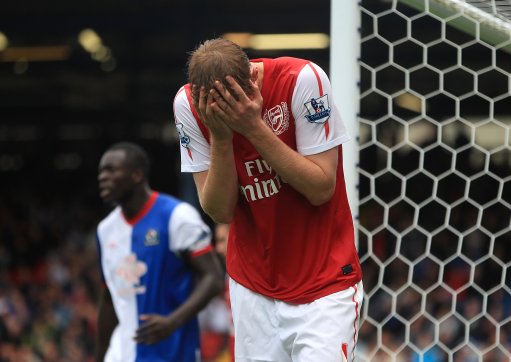 Mertesacker himself admitted he struggled with the physicality and pace of the Premier League, yet he has put in a series of assured performances at the start of the current campaign, resulting in Arsenal conceeding just two goals in their opening five Premier League fixtures.
Although much was made of Arsenal's zonal marking system in the aftermath of a goal conceded from a set piece against Manchester City, the reality is that both Premier League goals against the North London club this season have been the result of goalkeeping errors; Wojciech Szcz?sny fumbled a cross against Southampton and against City, Vito Mannone raced off his line only to get nowhere near David Silva's corner, allowing Lescott to head home.
During the remainder of the match, Arsenal defended admirably, keeping the champions at bay. Mertesacker's contribution to the Arsenal resistance was highly visible and came primarily in the form of interceptions. The 27-year-old made a total of seven interceptions in the match and, to put that figure into perspective, nobody has made more interceptions over the course of a single Premier League game in this campaign so far.
Arsenal's back four remained unchanged for their first five games in all competitions this season but, against City, Mertesacker was paired with Laurent Koscielny instead of skipper Thomas Vermaelen, who missed out due to illness. In putting in such a fine display, Mertesacker helped to cement his place in the side, showing that he can function equally well alongside either of the other two centre-back options.
Perhaps most impressively, two of Mertesacker's best performances this campaign have come against Liverpool and Manchester City, teams spear-headed by pacy attacking players like Luis Suarez and Sergio Aguero; players who would have likely sped past the giant defender with relative ease last season.
Following his appointment as Arsene Wenger's new assistant former Arsenal defender Steve Bould has received a lot of credit from the media for Arsenal's assured displays at the back. Ahead of the game at the Etihad, Martin Tyler remarked that the current Arsenal side resembled a mash-up of Arsene Wenger's attacking philosophy and George Graham's defensive resilience.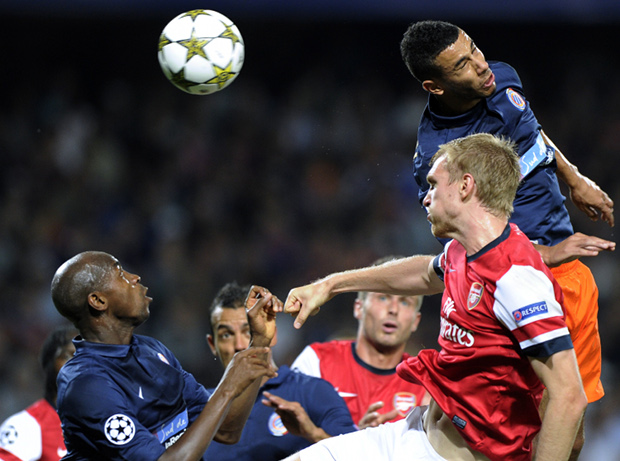 However, in the aftermath of Arsenal's victory against French champions Montpellier in the Champions League, another former Gunners great, Tony Adams, claimed that such praise for Bould is premature.
"I am not convinced at the moment," he told Sky Sports. "I think you have to give it more time to see if they have made a significant change defensively. There were some good elements but they rode their luck a bit, certainly in the second half. I'm unconvinced."
Adams went further, criticising Arsenal's deep defensive line, which he insisted invited too much pressure onto them and would cost them over the course of the season.
Yet, their defence operating from deep has been a key element in Arsenal's early season form and has been crucial in Mertesacker's improvement.
Allowing less room in behind the defence has taken the pressure off of Mertesacker, making him much less vulnerable to fast attacks and allowing him to calmly distribute the ball out from the back. It has given him more time to think and has allowed him to maximise his reading of the game, by far his best attribute as a footballer.
Defending from deep has also, incidently, allowed Arsenal to soak up pressure and break quickly on the counter-attack, a tactic which would have paid dividends against Manchester City if not for Gervinho's wastefulness in front of goal. The fact is, while defending from deep does invite pressure, the current Arsenal defence functions well and seems capable of absorbing that pressure.
While Adams remains unconvinced by Bould's impact on the Arsenal side, Mertesacker's opening six games in all competitions have been a testament to the changes that have been introduced. Seen by many as a weak link in the Arsenal side last season, on current form, Per Mertesacker seems to have firmly established himself as the first defender on Arsene Wenger's team sheet.
Jason Mitchell's book, 'A Culture of Silence: The Story of Football's Battle With Homophobia', is now available as a paperback from Amazon.co.uk
Compare ticket prices for the upcoming El Clasico matches between Real Madrid and Barcelona. Buy Real Madrid and FC Barcelona tickets for the first El Clasico of the season at the Nou Camp on 7 October and many more La Liga matches with the leading ticket comparison site.