Who can step up to replace the Chelsea skipper?
Check-in to Arsenal vs Chelsea!
Phil Jagielka, Joleon Lescott and Gary Cahill are shoe-ins for Roy Hodgson's next England squad for the games against San Marino and Poland in three weeks time.
Young Man United defenders Phil Jones and Chris Smalling, meanwhile, are certainly ones for the future but are injured at present.
With a John Terry-sized whole now in the England squad, Hodgson may need to look further afield for defensive recruits. We assess four of Uncle Roy's options at centre-half:
Rio Ferdinand (Man United)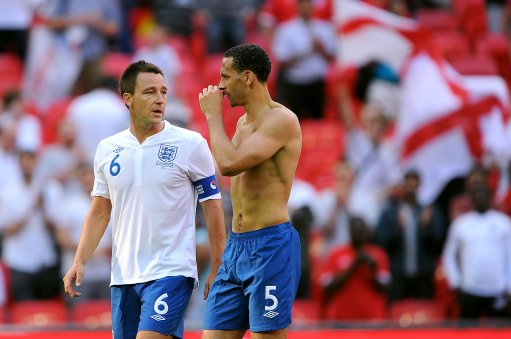 The Manchester United veteran was livid and fuming after being overlooked by Hodgson for a place in England's Euro 2012 squad. Clearly the twitter-loving mirk-master, who kept us lavishly entertained with his 'Films of the Day' during Terry's trial, didn't mind the prospect of sharing a dressing room with the man who allegedly racially abused his brother.
That is no longer an issue, of course, but Hodgson is yet to disclose whether the £30m centre-half was excluded for football or personal reasons. It's safe to say that, when fit, Ferdinand remains one of the finest defenders in the Premier League but sadly, age is catching up with him and Hodgson is unlikely to plump for the former Leeds United man, even as a stop-gap.
To complicate issues further, "Choc-Ice" Ashley Cole still a prominent part of the England squad and it remains to be seen if Ferdinand could bare to share a dressing room with the brother-betraying Chelsea left-back.