Anfield boss hopes to end striker exit talk.
Check-in to Liverpool v Wigan Athletic
Liverpool manager Brendan Rodgers says Luis Suarez is staying at Liverpool and insists there will be no "bidding war" for the striker in January.
Suarez, 25, has been linked with a move to Premier League champions Manchester City.
However, Rodgers said: "There will be no bidding war. Luis Suarez is staying here."
The Uruguay international signed a new deal at the Anfield club in the summer.
He has been in good form so far this season, scoring 11 goals in 16 appearances and is the joint top scorer in the Premier League with eight goals.
Rodgers added: "If we lost Luis then we have no strikers, so I can't afford to lose anyone.
"He is certainly not anyone we want to sell or move. We want to add to the squad.
"We continue to work on what we want to achieve, Luis has already shown his commitment to club in the summer he signed a new deal. He is scoring goals here and working well.
SOURCE: BBC Sport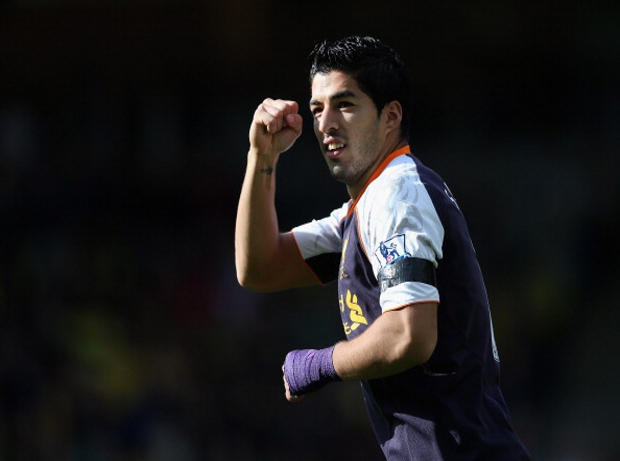 So that's that then. Or is it?
Well clearly Brendan Rodgers does not want to see Luis Suarez leave and Liverpool would be foolish to even ponder any big money offer for the 25 year old.
The former Ajax man has become a fan favourite and is the club's only effective goal-scoring option. This is a situation that clearly needs to be addressed and Rodgers will hope that the deadline day mistakes made in the summer will not be repeated and will hope a signing or two is brought in early in the January transfer window.
However should Liverpool fail to improve on last term's fairly poor finish and if Champions League football is not clinched for 2013/14 then there will surely be a fear that the Uruguayan will wonder where his future lies.
Currently the striker is clearly happy to be at the Merseyside club and is aware that Rodgers' plans are very much with the long term in mind but Suarez will have to see evidence of a ship moving in the right direction to be truly comfortably to stick with Liverpool.
Tickets still available for top football matches – Newcastle United v Man City tickets