Nou Camp side with it all to do.
Check in to FC Barcelona vs AC Milan
Real Madrid got lucky – very lucky – in getting through to the quarter-finals of this season's UEFA Champions League and Barcelona may need a similar slice of good fortune to join their Spanish La Liga rivals in the last eight.
Turkish referee Cuneyt Cakir turned the Old Trafford second leg on its head when he sent off Nani for a foul that was, at best, worthy of a caution. The Red Devils midfielder was dismissed for, to use the official term, serious foul play but surely his challenge was either careless (no card) or reckless (yellow card) rather than one that used excessive force (red card). Manchester United's reduction to 10 men prompted Real Madrid boss Jose Mourinho to make a tactical substitution and Luka Modric ended up being the difference.
Trailing 0-2 following the first leg at the San Siro three weeks ago, Barcelona may require some out-of-the-blue luck to come back from the dead against a Milan side that has won eight and drawn four of its last 12 games if one only counts normal time. After a truly dreadful start to this term, the Rossoneri are the form team in the Italian Serie A league.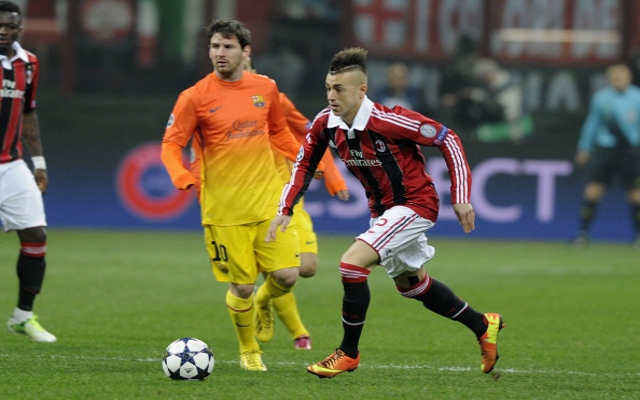 As one touched upon not long after Milan's 2-0 home defeat of Barcelona, UK bookmakers have chalked up what are, quite frankly, ridiculously big odds about the Rossoneri knocking out the pre-season UEFA Champions League favourite. One can back Milan at odds of around 8-11 to reach the next phase, odds that are mind blowing given any number of statistics.
Barcelona will have a Himalayan mountain to climb rather than a Pyrenean one if it concedes an away goal at Camp Nou having failed to score one of its own at the San Siro. And the probability is that Barca will give up at least one goal and, therefore, need to score at least four goals in 90 minutes to have any chance of making the quarter-finals.
In-form Milan has scored in 16 of its 18 competitive away matches this term, including in 11 of its last dozen road games. The Rossoneri have found the back of the net in 30 of their 37 matches played anywhere, in each of their last nine games and in 15 of its last 16 matches. And Milan is well equipped to tear apart Barcelona on the break if the home side throws caution to the wind and neglects its defence.
Barcelona, struggling to come to terms with the illness of its coach, Tito Vilanova, has kept only six clean sheets in its 22 competitive home games this season and it has let in at least one goal in 32 of its 44 matches irrespective of venue. Barca are in the midst of its worst run for years, having gone down three times in their last five games.
Factor in that 2-0 first-leg home winners have won more than 80 per cent of European ties and that Italian Serie A teams are 46-9 in terms of progress against elimination after winning the first leg of a European clash 2-0 at home and one cannot understand why most bookmakers think that the blockbuster argument is relatively close at this point.
Back Milan at 8-11 to end Barcelona's dream of winning its fifth European crown in Vilanova's first season at the helm of what is, according to its famous motto, more than a club.
Other betting options in the blockbuster between Barcelona and Milan that are appealing from a value-driven perspective include backing both sides to score at odds of around 8-11 and, also, supporting Rossoneri forward Stephan El Shaarawy to score at any time at odds of around 7-2. The Italian was a threat throughout last month's first leg and he shapes as the Milan player most likely to punish Barca on the counter.
Bookmakers are expecting to get filled in by punters wanting to bet on the Camp Nou clash featuring at least three goals but maybe there is some value in betting on the showdown featuring fewer than four goals at odds of around 4-5.
One would expect that Milan will employ very similar tactics in Spain to those that it employed in Italy, getting 10 men behind the ball and denying Barcelona midfielders time and space to thread through balls to Lionel Messi. Seldom will one be able to back fewer than four goals at odds of around 4-5 and, although it does contradict the both-teams-to-score bet suggested above to some extent, it does not contradict the recommendation to back Milan and El Shaarawy.
Elsewhere in this week's UEFA Champions League action, the state of play in the tie between Bayern Munchen and Arsenal means that the English Premier League side has to throw the kitchen sink at its opponents from the first whistle.
Arsenal is not going to die wondering but Bayern has won its last 11 competitive matches dating back to mid December 2012 so its class is beyond doubt and it was far superior to the Gunners in the first leg three weeks ago. Arsenal is sure to give it a real crack in the first 20 or 30 minutes but, if the Gunners fall behind and find themselves needing an even greater miracle, they could give up the ghost and allow their quality opponents to run riot in the latter stages.
Bayern is not far short of even money to beat Arsenal by two or more goals in the second leg, odds that seem more than fair given the strong chance that the Gunners will feel, at some point in the proceedings, that the tie is beyond them.