A fresh new column that deals with the days pressing footballing issues.
Check in to Aston Villa vs Liverpool
There is a growing amount of speculation as to Luis Suarez's long term future at Liverpool Football Club. Whilst of course there is barely a footballer alive who isn't at some point or another 'rumoured' to be on his way to any number of transfer destination the talk of the Uruguayan's future is perhaps not helped by a couple of interviews the 26 year old has given in recent months.
These interviews have perhaps heightened the concern some of the Anfield faithful may have over Suarez's intentions though in all honesty the statements made by the former Ajax man seem honest and any potential moments that can be construed as being 'lost in translation' are more often than not laced with liberal mentions as to his happiness to remain at the Merseyside club and his belief that under Brendan Rodgers the club are moving in the right direction.
For those who are still perhaps retaining a shadow of doubt over the player's presence among Liverpool's playing staff here are five very good reasons the Premier League side would not consider selling Luis Suarez.
Finances
Unlike the club's previous American owners, Tom Gillett and George Gillett aka. Tom & Jerry, Fenway Sports Group are an entirely different Stateside beast. John W. Henry and Tom Werner are adopting a more cautious, cost effective approach that is perhaps more in keeping with the club's long term development goals.
It's a steady path they are looking to tred and one that will clearly take time. There is no boom and bust here and as such there is no financial compunction to cash in on Luis Suarez.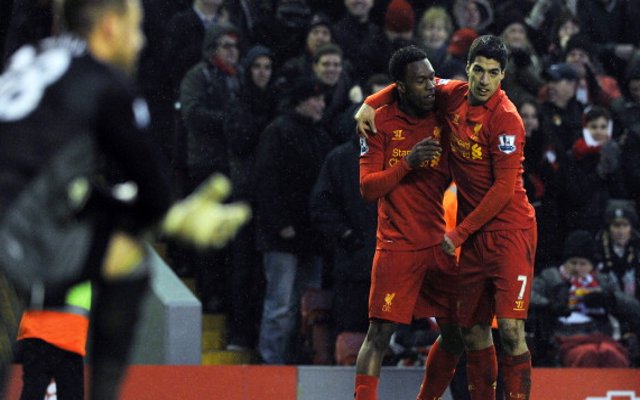 Importance
Luis Suarez is Liverpool's most effective striking weapon, up until the arrival of Daniel Sturridge he was perhaps the ONLY effective attacking weapon. Losing the player willingly would be utter madness and as such it is surely not even an option anyone at the club would entertain, not for a millisecond.
Morale
Of course it's hard to know what goes on behind close dressing room doors but it does seem that Luis Suarez is a happy man, scoring 29 goals thus far this season would suggest that he is a happy man. Hell if he wasn't a happy man but managing that level of goal return, imagine how many he'd bag when he was having the time of his life.
Suarez must have a great deal of respect for the manner in which Liverpool has backed him throughout his time at the club. They have shown their unflinching loyalty to him through the Patrice Evra incident and have done do during the early part of his Anfield career when he was perhaps falling to the floor all to easily, an aspect of his game that has pretty much vanished this season.
Luis Suarez will know more than most that loyalty is a two way street.
Reputation
Liverpool are looking to re-build after lean period and as such they can't afford to be seen as a 'selling club'. To do so would undermine the road to recovery they have plotted.
Think also of the knock potential knock-on effects of such a sale. Accepting an offer for Suarez would lead to others at the club questioning the ambitions of the owners and Liverpool Football club as a whole.
One need only look at how the willingness to accept offers for their top talents has had a corrosive effect on Arsenal, and that's a club that has for 15 years competed at Champions League level, imagine therefore how such a sale could affect a side that is a couple of steps behind the Emirates Stadium outfit.
Contract
In the event, an unlikely one at present, that Luis Suarez did want to force the issue and leave Liverpool then it is worth noting that the in-form marksman is tied to a lengthy contract having put pen to paper on a new contract extension last August that runs up until the summer of 2018.
There is no doubt that a number of clubs, some of whom can indeed offer Luis Suarez a shot at Champions League next season, are monitoring the Liverpool man. However that is to be expected of any player in the form of their lives, interest does not necessary equate to likelihood of sale.