It's Manchester derby time as reigning champions take on champions elect at Old Trafford.
Check in to Malaga CF vs Osasuna
Preview
Manchester City manager Roberto Mancini insists his team will use Monday's derby to show they are still Manchester United's equals even though the Premier League title is destined for Old Trafford.
With United 15 points clear of second placed City, Mancini has been forced to concede his side's reign as champions is all but over.
Yet there is still plenty to play for at Old Trafford, with United looking to move closer to confirming their title triumph and City desperate to inflict a bloody nose on their bitter rivals.
City supporters will never let United fans forget their 6-1 win at Old Trafford last season and another victory on enemy territory would at least partially ease the pain of surrendering the title and prove they can hold their own against the champions-elect.
"To win 6-1 is impossible," Mancini said. "This can happen every 100 years. But we don't deserve to stay 15 points behind United.
"They play well, they win a lot of games, the last time they lost was at Norwich (in November), so they deserve to stay on the top.
"But it is not a true table. Now we have eight games left. If we play well, we win a lot of these games, maybe we can reduce this gap. This should be our target.
"I don't know at this moment what my approach will be. To play there is difficult but there is not a big difference between us and them."
With the title gone, Mancini has set his sights on finishing second place and winning the FA Cup — his team face Chelsea in the semi-finals at Wembley next Sunday.
City could kick off against United just two points clear of Tottenham, while Chelsea have still not given up hopes of finishing league runners-up.
"We want to get the second place," said Mancini. "We know we have another eight games to play, against United, away against Tottenham.
"The next three weeks will be very hard because we play every three days. The next three weeks will be crucial for second place.
"We want to go there to try to win. We know it is not easy to win there but we want to play a good game.
"Because it is a derby, because we want to show we don't deserve to stay 15 points behind and also because we can reduce the gap. But the title race is finished."
Even though his side's huge advantage at the top of the table has taken some of the drama out of the latest Manchester derby, United manager Alex Ferguson does not believe the clash will lack passion.
"It shouldn't be any different really. I think there will still be a great intensity about the game," Ferguson said.
"It will be captivating in the sense that it will be shown all over the world.
"It's a Monday night game and the only game on. Therefore that does seep into fabric of what the game will be like on Monday. For both teams, you can't dismiss that.
"I think the important thing is winning the game against City. It will be a big game for them also in the sense they want to come and show some pride.
"And I can understand their motivation and we would probably have the same. We are at home, our consistency in the league is there for all to see and I expect us to perform well on Monday."
Ferguson was asked to explain why City have not provided more of a challenge this season, but the United manager preferred to focus on qualities of his own players rather than criticise Mancini's men.
"I couldn't answer that. We have focused on ourselves and you have to give the players credit because their focus and team spirit has been very good," Ferguson added.
"The concentration in every match has been good. The only thing I said at the start of the season was make sure we don't lose out on goal difference again."
Venue Old Trafford, Monday 8pm
Tickets Here
Last season Man Utd 1 Man City 6
Referee Mike Dean
This season's matches 20 Y72, R3, 3.75 cards per game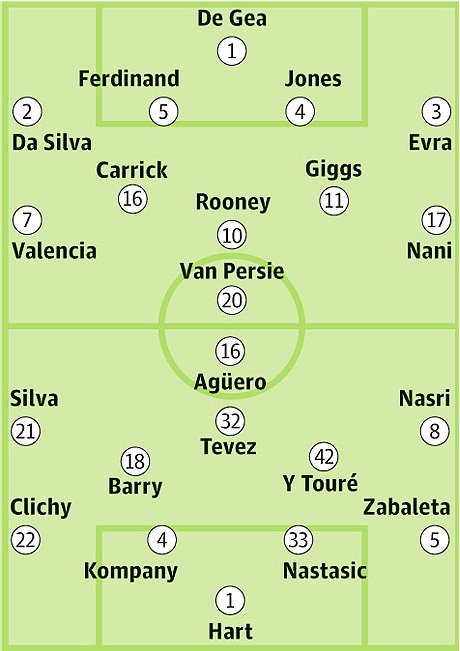 Manchester United
Subs from Lindegaard, Johnstone, Vidic, Evans, Cleverley, Anderson, Welbeck, Powell, Scholes, Buttner, Young, Smalling, Kagawa, Hernández
Doubtful Evans (hamstring), Vidic (back)
Injured Fletcher (illness, May)
Suspended None
Form guide WWWWWW
Disciplinary record Y44 R0
Leading scorer Van Persie 19
Manchester City
Subs from Pantilimon, Wright, Razak, Kolorov, Milner, Dzeko, Lescott, K Touré, Sinclair, García, Boyata
Doubtful None
Injured Rodwell (hamstring, 13 Apr), Richards (knee, 20 Apr), Maicon (knee, 20 Apr)
Suspended None
Form guide WLWWLD
Disciplinary record Y48 R3
Leading scorer Dzeko 12
STAT-ATTACK
Head-to-head
City's 6-1 win in last season's corresponding fixture was United's heaviest Premier League defeat, and the first time they had conceded six at Old Trafford since 1930.
This is the 165th Manchester derby in all competitions. Manchester United lead by 69 wins to City's 45, with 50 draws.
Sir Alex Ferguson and Roberto Mancini have met 11 times as managers. Ferguson has won six to Mancini's four.
Manchester United
Manchester United have won 50 of a possible 54 points in their last 18 Premier League games (W16, D2).
Sir Alex Ferguson's side are the first team in English top-flight history to win 25 of their first 30 league games of a season.
They need 19 points from their remaining eight matches to set a new Premier League record for most points (96).
United have not conceded in their last 627 minutes of Premier League football.
They are unbeaten in the last 53 league matches in which they opened the scoring.
According to Opta, United have only conceded one shot on target in their last three Premier League games combined (v Norwich, Reading and Sunderland).
Robin van Persie has gone nine games in all competitions with United without scoring, despite attempting 24 shots at goal in those appearances.
Manchester City
Manchester City have taken just 11 points from the last 21 available.
City have eight points fewer than they did at this stage last season.
Roberto Mancini's side have conceded 26 league goals, five fewer than any other top-flight side. They have also kept an unrivalled 14 clean sheets.
Carlos Tevez has scored seven goals in his last seven competitive games for Manchester City. He scored 34 goals in 97 matches for Manchester United. He has scored three goals in seven matches against them since leaving the club but none in the six league meetings.
Edin Dzeko has scored five goals in six matches against Manchester United.
Live Stream
Man United Vs Man City Live Streaming