Bernabeu star admits to being in the same hotel as 'Miss BumBum'.
Check in to Real Madrid vs Borussia Dortmund
Real Madrid attacker Cristiano Ronaldo has moved to refute allegations that he slept with Brazilian model Andressa Urach just 48 hours before his side crashed to a 4-1 Champion League defeat to Borussia Dortmund according to the Daily Mail.
The 27 year old, known in her native Brazil as 'Miss BumBum', stated about their alleged meeting,
'I have always thought Cristiano is one of the most gorgeous men in the world, so I couldn't believe it when he got in touch with me
'He said he was very excited by my pictures online and one of the first things he asked me was if I really was a Miss Butt Brazil model.'
The Portuguese international used his Twitter account to deny the allegations,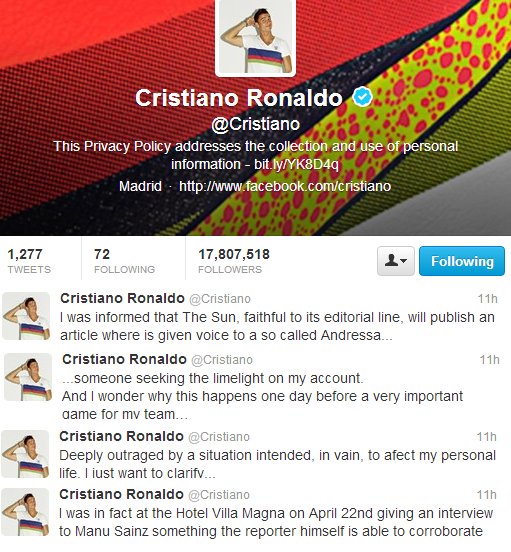 One would imagine that if the former Man United man was so disgusted by the allegations made by Miss Urach then he would instigate legal proceedings against her. Anything less would surely lead many to believe there is some credence to her story.
Presumably he could then in turn sue The Sun for printing the original allegation into the bargain?