Arsene Wenger's Arsenal make the short trip to West London to take on relegated QPR.
Live Stream
Click the link below for live streaming of QPR vs Arsenal
Preview
Arsene Wenger has no intention of leaving Arsenal before his current contract expires, he said on Friday and indicated he could yet stay with the club beyond 2014.
The 63-year-old Frenchman, the Gunners' manager since 1996, has recently been linked to a move to Paris St Germain following several trophyless seasons with north London side Arsenal.
But Wenger insisted all he was concerned about or the time being was securing a top-four finish for Arsenal that would ensure they once again qualified for the Champions League.
The financial implications of Arsenal's move to the Emirates Stadium from their nearby former home ground of Highbury tied Wenger's hands in the transfer market to a certain extent compared to the likes of Manchester United, Manchester City and Chelsea.
But new 'front-loaded' sponsorship means Wenger, who saw star striker Robin van Persie leave last season to join United and win the Premier League in his first term at Old Trafford, is set to enter the transfer market with a reported £100 million to spend.
"Every football game excites me and football in general still excites me — the love for this club as well," Wenger said Friday ahead of Saturday's trip across London to relegated QPR.
"I have answered that question (about PSG) already. I respect my contracts.
"I want to stay (past 2014) if I do well and if I consider or the club considers that I do well, that is all.
"I want this club to do well — that is my basic feeling.
"We have gone through a period that was very sensitive. We are coming out of it now, in a much stronger position financially.
"I believe the club is in a very strong position for the future."
Wenger's 'Invincible' Arsenal side were crowned Premier League champions in 2003/04 without losing a match before he took the club from Highbury across the road to the 60,000-seater Emirates Stadium and has ensured a constant supply of Champions League football despite being confronted by bigger-spending rivals.
However, some Arsenal fans have started to grow tired of Wenger's repeated assurances of a brilliant Arsenal future given it is now eight years since the club last won a major trophy — the 2005 FA Cup.
Wenger again reiterated on Friday that Arsenal were well-placed on all fronts to end that silverware drought.
"I believe a big club should be run where everybody does his job and I try to do my job. I believe that this club is today in a very, very strong position and has gone through a very sensitive period in a very intelligent way. After that, everything is here to have a great future.
"We have a good fanbase, we have now a strong financial situation, we have good young players and a squad with a bright future with the quality of the young players we have. It is just to manage it well now."
Arsenal head to Loftus Road on the back of a seven-match unbeaten league run which has seen them move into the coveted fourth place, the last available Champions League spot on offer to English clubs.
Now, in a three-way London battle, the Gunners are a point behind Chelsea and two ahead of Tottenham Hotspur, albeit having played one match more.
Chelsea, who reached the Europa League final on Thursday, head to Manchester United on Sunday, before hosting Spurs on Wednesday.
"The only thing we know is it can only be decisive if we win our games," Wenger said. "That is compulsory. We focus on winning our games and then look at the results of other teams.
"The most important in that is not to lift your head, just focus on our job and continue our strong run."
Venue Loftus Road, Saturday 5.30pm
Tickets Here
Last season QPR 2 Arsenal 1
Referee J Moss
This season's matches 21 Y65, R1, 3.14 cards per game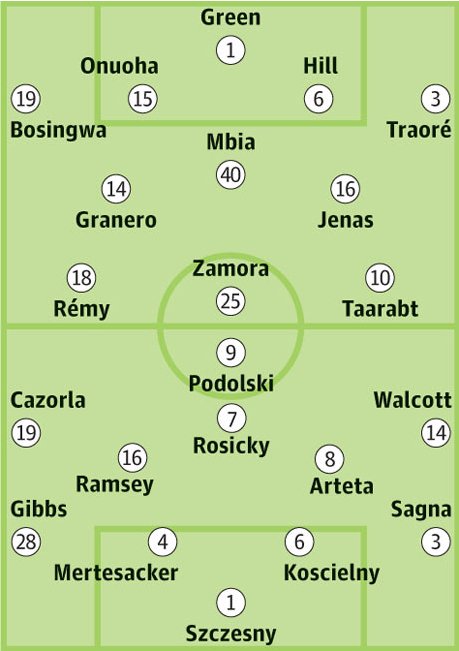 QPR
Subs from César, Murphy, Townsend, Samba, Da Silva, Derry, Diakité, Park, Hoilett, Mackie, Bothroyd
Doubtful Samba (knee), Townsend (hamstring)
Injured Johnson (knee, Aug), Wright-Phillips (ankle, Aug)
Suspended None Form guide DLLDLL
Disciplinary record Y54 R3
Leading scorer Taarabt 5
Arsenal
Subs from Mannone, Martínez, Jenkinson, Monreal, Yennaris, Vermaelen, Squillaci, Miquel, Coquelin, Ox-Chamberlain, Wilshere, Gnabry, Gervinho, Arshavin
Doubtful None
Injured Fabianski (rib, 11 May), Diaby (knee, Nov)
Suspended Giroud (second of three)
Form guide DWDWWW Disciplinary record Y41 R5
Leading scorer Walcott, Cazorla 12
STAT-ATTACK
Head-to-head
The Gunners have failed to win their last six league games away at QPR (D4, L2), although they did beat Rangers 6-0 at Loftus Road in an FA Cup fourth-round tie in 2001.
Their last top-flight away win in this fixture was by 3-1 on 24 November 1990.
However, the Gunners did record Premier League wins at Loftus Road in 2002-03 and 2003-04, when Fulham were tenants at the stadium during the reconstruction of Craven Cottage.
Queens Park Rangers
The last time QPR were relegated from the Premier League (in 1995-1996) they took 15 seasons to get back to the top flight.
QPR have gone four hours and 35 minutes without scoring. If they are unable to score on Saturday it will be the first time they have failed to net in four successive top-flight games since a similar drought between August and September 1989.
They have taken just two points from their last six league matches.
QPR have the second best points-per-game average in May (1.83) in Premier League history. Only Manchester United (2.09) have a better record.
Arsenal
The Gunners are chasing a fifth successive away win in all competitions.
Arsenal are one of only two Premier League teams who have yet to lose after taking the lead this season. Manchester United are the other side with that record.
The Gunners have surrendered just six points from winning positions this term, the second best record in the top flight. In comparison, fellow Champions League hopefuls Chelsea and Tottenham have dropped 16 and 23 points respectively.
Arsenal have lost just one game against a side in the bottom half of the league table so far this season (against Norwich in October).
Theo Walcott is set to make his 200th league appearance in English football (including 21 games for Southampton).
No Premier League player has had as many shots as Aaron Ramsey (39) without scoring this season.