Andre Villas-Boas discusses his first season at White Hart Lane ahead of a crucial trip to take on former employers Chelsea
Check in to Chelsea vs Tottenham Hotspur
We are fast approaching the end of an impressive first season for you as Tottenham manager, how have you found the experience?
Extremely good, it's good to be back in England after last year. I've been very well received by everybody, particularly this group of players whose drive and ambition towards achieving results has been tremendous. This season we have competed hard in the Europa League to see how far we could go, and everything is still to play for in the Premier League.
The Europa League was a good experience, we had a change of attitude towards the competition and that has been an extremely good thing for everybody. On a personal note the season has been good for me, that's not what matters most, though, the club is what matters most and their ambitions and desire to move forward. Hopefully we have been able to meet some of the fans' expectations too.
How did you approach the challenge of instilling your new ideas at a club where perhaps previous philosophies had differed?
It becomes easier when the players are willing to commit to your ideas, they need to be able to take something from learning new things, and also enjoy learning new things that they can use in their game. All the players have received me well and when you receive that sort of openness you can create a good environment.
Do you feel the team has fully realised the way you want to play or are there certain things you still want to refine?
There are always things to refine. It can be difficult sometimes because the nature of the Premier League means it is driven by passion and emotion, it is a game that can be influenced more by aspects of motivation and mindset than any other league in the world; this is what makes the Premier League the product that it is. So, sometimes it can be difficult to set out your philosophy but like every other team we have had great games and bad games, and games where we should have expressed ourselves better. In the end, however, we have always been recognised as a team that has always been very driven, that wants to score and that is the Tottenham way.
At Tottenham you have ambitious owners, a squad full of quality and a fantastic training ground, how much scope for growth do you think there is at this club?
The growth is continuing and I know that the owner and chairman are very driven in achieving the club's aim of building a new stadium. I think that this wonderful training ground allows the players to further flourish and develop their game. It also allows us to attract better players; it's a great environment and a great example to the Premier League.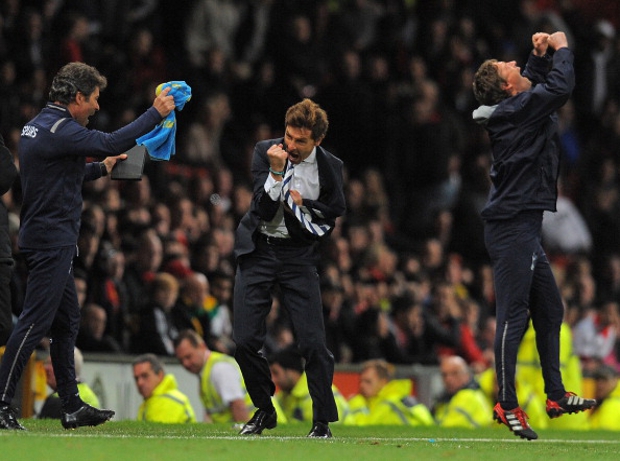 On a personal level how do you feel you have evolved since your arrival in the Barclays Premier League with Chelsea and Tottenham?
The experiences are different and I learned a great lesson from last year. There are things I do dramatically different and things that I do exactly the same because you still have to stay true to your principles. The Chelsea experience allowed me to see things in a different way and helped me address the mistakes I made; that always allows you to develop on a personal and a professional level.
There seems to be a real cohesion about your team and they appear to really enjoy playing with each other, how have you managed to bring out those qualities?
That is mostly down to them and their ambition to reach the Champions League. They were very unfortunate last season although it meant success for Chelsea which is always good for the English game. You can see how much these players want it, though, and you can see that power on a weekly basis.
You have been competitive on a few fronts this season, as a manager how do you keep things fresh and keep the players focused?
It's difficult but sometimes it's what the players want. The more competitions the more chances you have to play and enjoy yourself on the pitch. It is different for every player but there are players who prefer a routine with a midweek game with all the pressure and adrenaline that comes with it, they live off that.
When we went out of the Europa League our habits changed in that we started training all week to prepare for the end of week game, it's not a big strain for us because we're on 51 games now and will finish with 55. That means we will have responded well to different competitions and the boys deserve praise for coping with that.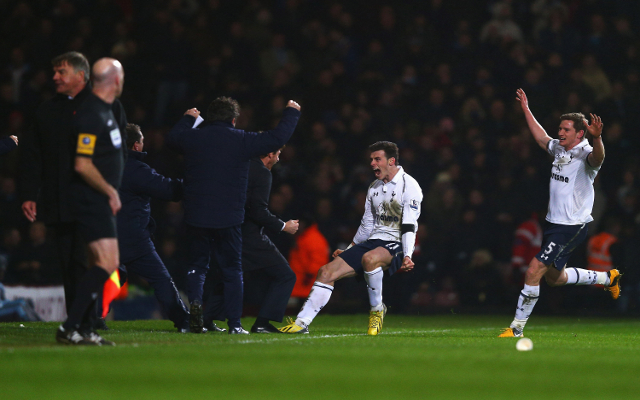 One of your key players is Gareth Bale who won the PFA Player of the Year and the Football Writers Player of the Year, how would you characterise his performances for you this season?
Great, he has been outstanding this season. He has enjoyed his performances and that is vital for any football player. Managers have to guard against limiting them through too much organisation, but that hasn't been the case with Gareth who has played in a different position to the one he has played in before. Doing that has given him the chance to score more goals which has contributed to his wonderful season, plus he has the ambition to be at the very top.
Do you think we'll see a definitive move for him to the centre and what is it about his qualities as a player that made you bring him in from the wing?
It was born out of an experiment in Baltimore, America when we played Liverpool in a pre-season game. Fortunately it is something that worked for us and due to a couple of injuries it was something that we had to keep trying. We fine-tuned Gareth to play there and he has been tremendous because his talent allows him to be adaptable. I'm not sure that the shift is definitive but it does give us the option of using him in different positions. At the moment, though, the goals he is getting are giving him the buzz to play there.
You signed Lewis Holtby from Shalke in January, given what we have seen from Bundesliga clubs this season do you think English clubs will be looking more towards German clubs to recruit players?
They might do, the Barclays Premier League is still the best league in the world and will attract the best players in the world including those from Germany. They know how competitive this league is and the exposure it has, the German league has great exposure too but not of the same power as the Barclays Premier League. So, we'll continue to attract the best young players, but that should not limit the chances that our own young players have to break through and develop.
For more insight from Andre Villas Boas and other leading managers plus exclusive Premier League highlights go to www.yahoo.co.uk/sport