Outgoing Goodison Park boss keen to take a couple of his charges to Old Trafford this summer.
Check in to Manchester United vs Swansea City
Incoming Old Trafford boss David Moyes will look to lure Everton stars Leighton Baines and Marouane Fellaini as he sets about putting together a summer wish-list.
Moyes takes over from Man United and has been handed significant funds to improve the squad he has inherited from Sir Alex Ferguson, one that was clearly more than capable of wrestling the Premier League title from local rivals Man City but not one that progressed as far as they would have liked in the Champions League.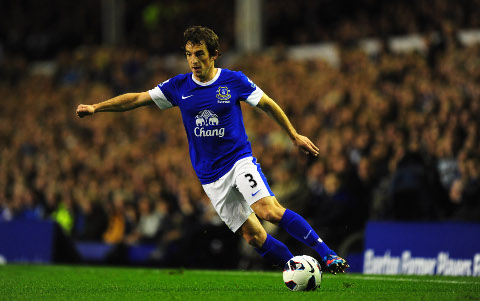 The Scot will look to bring in England international left-back Baines, a player who has been consistently linked with a move to Man United for the best part of two years. Veteran Frenchman Patrice Evra has had a decidedly average season and the 28 year old Everton man is seen as an long term replacement for the former Monaco man.
It's a move that Baines may well be ready to make having spent six seasons at Goodison Park. The former Wigan Athletic man is keen to force his way into a regular starting spot in Roy Hodgson's national team set-up and may believe a high profile move to Man United could help him oust Ashley Cole from the full-back berth.
Moyes will also look to bring in Fellaini to help strengthen Man United's rather brittle centre, offering a genuine attacking threat from the centre of the park and a good link between midfield and attack.
The Belgian international has been linked with an Everton exit for some time but has still managed to put in his most effective season to date this term, scoring a dozen goals and providing seven assists in all competitions.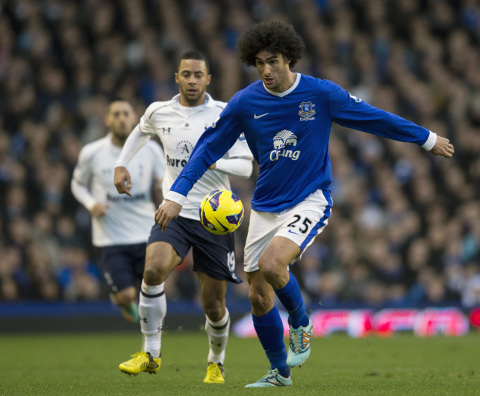 Michael Carrick has put in an inspired campaign at the heart of Man United's midfield but isn't getting any younger and with Anderson once again flattering to deceive, Darren Fletcher still feeling his way back from long term illness there is certainly scope for a much needed addition in this area of the club's squad.
The 25 year old may feel that a move away from Everton is necessary in order to fulfill his long term ambitions and that desire may well have strengthened having seen Moyes leave the club to make his 'step-up' and could tempt the powerful midfielder into doing likewise.
Though clearly Everton chairman Bill Kenwright would be loathed to see his star performers join David Moyes on the way to a Goodison Park exit this summer the harsh financial reality is that if a big money offer if made for Baines and/or Fellaini then the cash-strapped club will struggle to turn down offers, especially if either player demands an exit.