Old Trafford star wants to leave, they won't let him.
Check in to West Bromwich Albion vs Manchester United
Sir Alex Ferguson has confirmed that striker Wayne Rooney has requested to leave the club, his second such request in three years.
Ferguson, who retires at the end of the season, dropped Rooney for the 2-1 win over Swansea City in his final home game, and said the England international had not been in the right frame of mind to play.
"I don't think Wayne was keen to play because he's asked for a transfer and he wants to think it through in his mind. I think that's a good idea," Ferguson told Sky Sports.
"We're not going to let him go. I think maybe he's a little bit frustrated that he's been taken off once or twice in the last few weeks."
Asked to confirm that Rooney had submitted a transfer request, Ferguson replied: "Yes, he's asked, yeah."
He added: "We have refused it. I think he should go away and think it over again. He wasn't happy about being taken off a few times this season, but a Wayne Rooney in top form wouldn't be taken off."
Asked if Rooney would stay at the club, Ferguson replied: "It's not my decision now."
Rooney, 27, first asked to leave United in 2010, when he accused the club of failing to match his ambitions, only to change his mind and sign a new five-year contract.
Although he was not included in United's match-day squad on Sunday, he took part in the post-match celebrations after the squad were presented with the Premier League trophy and was also seen to share a brief on-pitch embrace with Ferguson.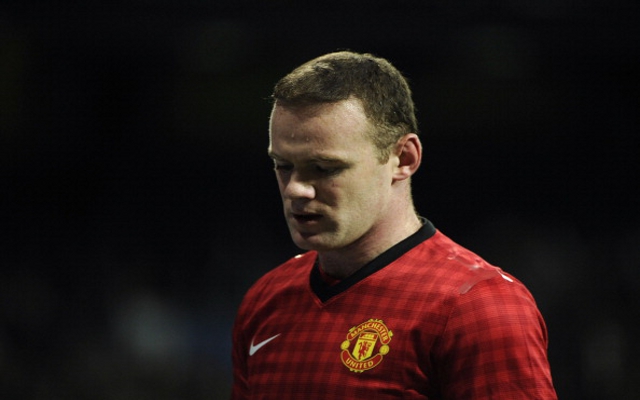 Speculation about his future was sparked after he was left out of the United starting XI for the crucial Champions League last 16 home game against Real Madrid in March, with England team-mate Danny Welbeck playing in his place.
He has also been obliged to play in an unfamiliar midfield role in recent weeks, due to top scorer Robin van Persie's status as the club's number-one striker.
Rumours that Rooney had asked to leave the club again first emerged shortly after Ferguson announced on Wednesday that he was leaving Old Trafford after a record-breaking 26-and-a-half-year spell in which he has won 38 trophies.
Ferguson's successor, David Moyes, gave Rooney his professional debut at the age of 16 when he was at Everton.
Rooney joined United in a £27 million ($42 million, 31.9 million euros) transfer two years later and although Moyes sued him over remarks that appeared in the player's autobiography in 2006, the pair later reconciled.
With 197 goals in 402 appearances, Rooney is the fourth-highest goal-scorer in United's history, and has won five Premier League titles, two League Cups and the 2008 Champions League title in his time at the club.
He is also England's fourth-highest goal-scorer, with 35 goals from 81 international appearances.
His status as one of United and England's most high-profile players means there are only a handful of clubs in the world with sufficient means to match his salary aspirations should he ever decide to leave the club. He is currently reported to earn £250,000 a week.
He has been linked with United's local rivals Manchester City and big-spending French club Paris Saint-Germain in the past.
Rooney's former United team-mate Gary Neville, who is now a television pundit, urged him to reconsider.
"He has not been himself over these last couple of months. You can see there is something wrong — he wears his heart on his sleeve," Neville said.
"However, if he has seen what has happened here today — that reception before the game, as he was sat up there in that (corporate) box — and looked around him; he's 27 years of age, there is nowhere to go from here, believe me.
"I've seen players join Real Madrid and other great clubs in Europe, and they always want to come back to this club."