Barcelona's Pedro is a target for Manchester United manager David Moyes.
Check in to West Bromwich Albion vs Manchester United
Manchester United could make an ambitious move to sign Barcelona winger Pedro Rodriguez this summer, it has emerged.
The Catalan club are likely to make a number of changes to their squad this summer, as they come towards the end of a strange season, in which they have been unconvincing despite their La Liga title triumph.
Tito Vilanova's side have a bad record against the big sides this season, becoming predictable and easy to play against when it has mattered most. The manager himself, who took over from Pep Guardiola at the start of the season, is under pressure after the club's humiliating 7-0 aggregate defeat to Bayern Munich in the Champions League semi-finals.
Several squad players have been linked with moves away, and Pedro may now fall into that category after a disappointing individual season, where he has provided just 6 goals and 6 assists.
However, he remains a top talent and could benefit from a move elsewhere to make a fresh start, and United see him as a player who could be an improvement on their current wingers if he rediscovers his best form of a few years ago, when he actually scored against Sir Alex Ferguson's side in the 2011 Champions League final.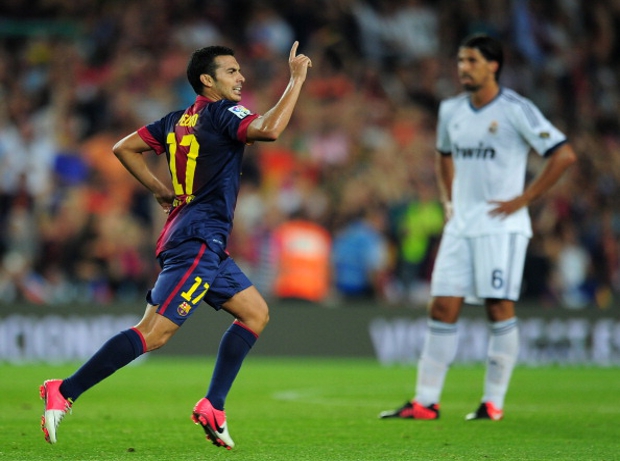 At his best, the Spaniard can reach double figures in both goals and assists, which United have seriously lacked from the likes of Nani, Ashley Young and Antonio Valencia this season, leading to an over-reliance on star striker Robin van Persie.
Pedro's ability to play upfront could also be tempting to incoming manager David Moyes, who faces the possibility of losing both Wayne Rooney and Javier Hernandez, two players who are unhappy with their current roles at the club.
Neither have featured regularly this season, and have been linked with moves away. While Moyes is understood to be hoping to persuade Rooney to remain at Old Trafford, he may be unable to do so and settle for the large transfer fee that the club would receive for the England striker. The Real Madrid and Chelsea target would command around £25million, which would help fund a move for Pedro, who is valued by Barcelona at around £15million.
Hernandez, meanwhile, had been linked with Atletico Madrid as part of a swap deal to bring Radamel Falcao to United, though that deal looks off as the Colombian has opted for a big-money move to French club Monaco.
There are some doubts from United over Pedro's recent fitness record, and they may still consider some of their other targets before making a bid, though they seem likely to miss out on Borussia Dortmund striker Robert Lewandowski as well as Falcao, meaning they may see Pedro as their best option.
With the distinct possibility of the high-profile arrival of Neymar at Barcelona next season, Pedro too may feel it is time to move on to get more regular first team football.