Fernandinho takes to social media to push through Manchester City move.
Check in to Osasuna vs Sevilla
Shakhtar Donetsk midfielder Fernandino has reiterated his desire for the Ukrainian side to allow him to move to Manchester City by telling one of English club's fans that he hopes to join this summer, The Mirror reports.
The box-to-box midfielder has admitted that he wants to join the Premier League title contenders after repeated links between the two this summer and last week accused Shakhtar of pricing him out of a switch this summer.
He has three years remaining on his current deal and has just helped the club to win their domestic league but has admitted that he needs to move on for the sake of his career and told one City fan that he want's to join the club.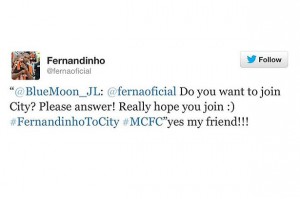 When asked if he wanted to join City he replied: "Yes my friend!!!"
The Brazilian cost Shakhtar just £5 million when he joined from Atletico Paranaense in 2005 but has a £40 million release clause in his contract that the player has pleaded with the club to waive to he can move to the Premier League.
"My dream is being threatened by my valuation," he said.
"When you are 20, you are young and you have to take risks."
"I arrived here in a totally different country, with a different culture, different climate, but everything went as I expected and I'm sure a 20-year-old today would take the same risk that I did."