Emirates Stadium side would do well to heed 'come and get me' plea.
Check in to Transfer Window: Done Deal Alerts
Amid talk of long term target Gonzalo Higuain, and even longer term target Stevan Jovetic, both seemingly set for moves elswhere there is perhaps good news for Gunners fans keen on seeing Arsenal sign a top class prolific striker.
It appears Aston Villa striker Christian Benteke is very keen on making a move to the Emirates Stadium side. According to the Daily Express the 22 year old Belgian has delivered a 'come and get me' plea to the North London club, one that Arsene Wenger would do well to heed.
Having netted 19 goals in his debut Premier League season, a total that is even more impressive when you consider Paul Lambert's side have been at the wrong end of the table pretty much all season, the £7m signing from Genk Benteke is now angling for a move to Arsenal.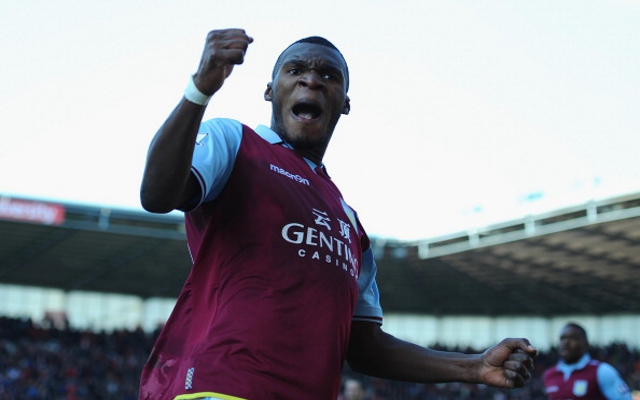 Benteke has made some very leading statements in a recent interview whilst on international duty, statements that may well worry the Villa Park faithful.
"I hope that if I leave my club a deal can be done more quickly than the one last year," he said.
"There is no point in me getting into a tug-of-war with Villa, and I don't think there is any need for one. If the chance comes up for me to join a club like Arsenal, I am convinced that we can reach a compromise where everybody comes out a winner.
"If Villa say that I have to stay put, I will find it hard to accept. I don't want to be left with regrets about not getting the most out of my career. It's only normal for there to be transfer rumours about me. I have done my job on the pitch. It could be risky to change clubs a year before the World Cup finals. When a situation arises, I will weigh up the pros and cons with my family, as I cannot afford to make a mistake."
This source believes Villa would not accept anything less than £20m for their prized attacking asset but that's a fee Wenger should be happy to pay for a player of Benteke's age, potential and obvious ability.
Arsene Wenger could well do with strengthening his attack after both Lukas Podolski and Olivier Giroud who have hardly set the world alight since moving to Arsenal, both managing 11 Premier League goals each this term.