A look back at Arsenal's 2012/13 season.
Check in to Transfer Window: Done Deal Alerts
Arsenal fans perhaps approached the start of the 2012/13 season with some optimism. Legendary defender Steve Bould had been promoted to Arsene Wenger's assistant manager and was widely expected to work on the Gunners' leaky defence. And despite the sales of Robin van Persie and Alex Song in the summer transfer window, there were some exciting new faces brought in to the club. Lukas Podolski, Olivier Giroud and Santi Cazorla were all big names who were ready to make an impact immediately, after a long run of Wenger putting his faith into younger players in recent seasons.
It would take a bit of time for Arsenal's new-look attack to gel, and indeed it was a mixed start for the team with two 0-0 draws in their opening two Premier League games; the defence was indeed looking more solid and organised with Bould's influence, but the attacking players weren't yet firing, and ultimately two draws with Sunderland and Stoke had to be seen as disappointments.
However, a more complete performance led to a convincing 2-0 win against Liverpool at Anfield. Big things were expected of the Reds under new manager Brendan Rodgers, but Arsenal perfected their game plan, keeping Liverpool from creating many chances and hitting them with devastating effect on the break. Podolski and Cazorla both scored and assisted each other's goals and looked like forming a very promising partnership.
Arsenal continued to impress with a 6-1 thrashing of Southampton at the Emirates Stadium, and a hard-fought 1-1 draw away to champions Manchester City. However, their fans were brought back down to earth with a 2-1 home defeat to Chelsea. Talk of a new-found defensive solidity soon evaporated and they would not keep a clean sheet again until the end of October, losing away to Norwich in the league and at home to Schalke in the Champions League in the process.
A 3-3 home draw with Fulham and even an enjoyable 5-2 win over rivals Tottenham showed that Arsenal were much the same team as they have been in previous seasons – exciting to watch, but not reliable, and incapable of consistency and shutting games out. Their season looked on the brink of collapse at the end of November when a 2-0 home defeat to Swansea saw them on an awful run of just one league win in six games, though they managed to sneak through to the knockout stages of the Champions League as group runners-up.
After the turn of the year, their league form steadily improved, and they provided memorable big wins in the league, 7-3 against Newcastle and 5-1 against West Ham, though they suffered the ultimate humiliation in the Capital One Cup as they were knocked out on penalties by League Two side Bradford City, leading for calls from many Arsenal fans for Wenger to be sacked.
A further shock came in the shape of an FA Cup exit to Championship side Blackburn Rovers, leaving the Gunners with only the Champions League to play for, having fallen way too far behind in the title race. However, they were outclassed and looked all but out after a 3-1 first leg defeat to Bayern Munich at the Emirates Stadium. Arsenal would have to go to the home of the best team in Europe this season and win by three goals to have any hope of progressing.
Although they didn't manage it, they surprised many by winning the second leg 2-0, and only exited the competition on away goals. This dignified defeat against the eventual European champions seemed to lift Arsenal and they hit their best run of form of the season in the league.
Defeat to Tottenham in the North London derby at White Hart Lane in March would be their only loss for the rest of the season, as they embarked on an incredible run of nine wins in their last eleven games. Their defensive record improved again with some changes made to the team that saw Thomas Vermaelen and Wojciech Szczesny benched for much of the rest of the season, casting doubts over their futures at the club, but seeing a welcome turn in fortunes for the Gunners in hard-fought wins against Swansea, West Brom, Norwich City, Queens Park Rangers and eventually Newcastle on the final day, where a 1-0 win confirmed fourth place and a Champions League spot at the expense of rivals Spurs, whose form dipped towards the end of the campaign despite a seven-point lead over Arsenal after beating them in March.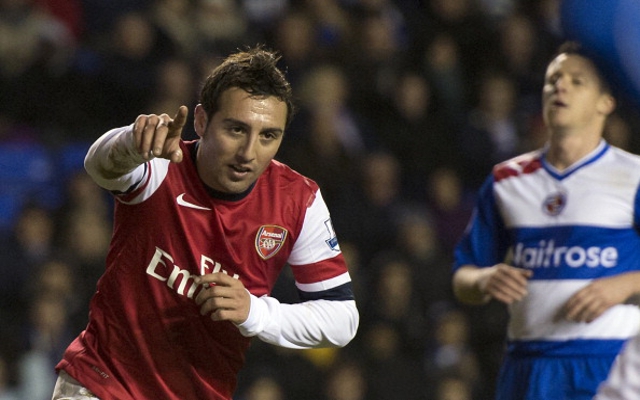 Best Player: Santi Cazorla
The signing of the Spanish playmaker from Malaga was a masterstroke by Arsenal, and looking at his displays it's hard to understand why there wasn't more competition for him. The classy attacker made the difference on many occasions this season, being named man of the match ten times, second only to eleven times for Gareth Bale. His 12 goals and 11 assists were all of great quality, and there's no doubt he was one of the best players in the Premier League, not just at Arsenal. Gooners will just be hoping he continues to improve as he settles in England and that he will be given better players to play with in this summer's transfer window. A notable mention as well for Theo Walcott, the club's top scorer and most-improved player of the season.
Worst Player: Gervinho
Thomas Vermaelen's surprise dip in form was a disappointment, but Gervinho is one who really dragged the team down at points with his baffling displays. The Ivorian has looked clueless on many occasions, dribbling himself into a corner and frustrating his team-mates with his decision-making and inability to put away simple chances. His open-goal miss in the shock defeat to Bradford more or less summed up why he is just not the kind of player the club should be relying on in order to move forward.
Final Grade: C+
Another season of selling key players and failing to win silverware means it cannot be considered a success, especially taking into account the manner of Arsenal's cup exits to lower league opposition. The end of season form is encouraging, and can perhaps make Arsenal fans optimistic for next season if the right signings are made, though it's worth noting that they only truly performed when there was nothing else but fourth spot to play for.