Old Trafford side
Check in to Transfer Window: Done Deal Alerts
Spanish source AS claim that a host of clubs are ready to offer Cristiano Ronaldo €60m (£50m) to run down his current Real Madrid contract so that he can then leave the Bernabeu on a free transfer in the summer of 2015.
Man United, Man City, PSG and AS Monaco are also willing to make such an offer, one that the La Liga side will not be happy to learn about.
The 28 year old has steadfastly refused to sign a new contract and this has heightened speculation that the Real Madrid goal machine could leave this summer but perhaps those sides interested in acquiring the Portuguese international are more interested in playing the waiting game.
Clearly any move to persuade Real Madrid to sell their prized asset would set a club back a figure in the region, if not in excess of, the £80m the Spanish side paid Man United for Ronaldo back in 2009. After all the player has become a more bankable player in every sense of the word.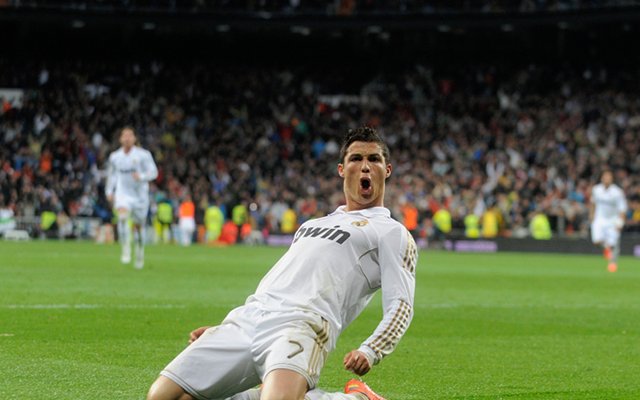 Having netted an astonishing 201 goals in 199 matches for Real Madrid it would be fair to say that Cristiano Ronaldo is a more complete product now than he was when he left Old Trafford, older yes but now at the peak of his powers.
This source claims that sides interested in signing Ronaldo in 2015 would offer £50m by way of a signing bonus and a further €23m (£19m) a year salary. Perhaps even more crucially they will allow the player to keep all earnings from his image rights, Real Madrid are said to currently take around 40% of such deals at present.
Ronaldo will be 30 by the time his Real Madrid contract runs its course, but given the player has rarely had long term injury concerns and clearly takes good care of himself in physical terms it would be fair to assume that any buyer looking to pick up the player on a free transfer could expect three, perhaps four, seasons service at a very high level.
Of the course clubs keen on the Real Madrid star Man United would have to be the favourite to convince Cristiano Ronaldo to pursue this course of action.