A look back at the 2012/13 season for Manchester United.
Check in to Transfer Window: Done Deal Alerts
After being cruelly denied their 20th title by rivals Manchester City in 2011/12, Sir Alex Ferguson was more determined than ever to win it back this season. The Scot made a good start by beating City to the signing of Robin van Persie from Arsenal, as the £24million signing shocked the football world, and in some ways signalled the end of a serious rivalry between United and the Gunners. After losing the title on goal difference, a star striker of van Persie's quality was seen as the answer to ensure success was delivered this time round.
Shinji Kagawa was also brought in from Borussia Dortmund, as were promising youngster Alexander Buttner from Vitesse and Nick Powell from Crewe, though many United fans and neutrals questioned Ferguson's decision not to sign a defensive midfielder.
This fears looked justified after United's opening day defeat to Everton. Marouane Fellaini put in a superb individual display in a new attacking midfield role, and United were simply unable to cope with him as he dropped into dangerous positions often unmarked, or simply physically too much for the likes of Michael Carrick. As well as that, he scored the winner from a corner and gave United the worst possible start as they looked to improve on last season.
They bounced back, though continued to look shaky defensively with two 3-2 wins in a row over Fulham and Southampton, the latter of those two games seeing van Persie score a hat-trick, proving perhaps that Ferguson's attack-minded approach to challenging City was the correct one, as the Dutch striker's form in front of goal spared his team's blushes defensively.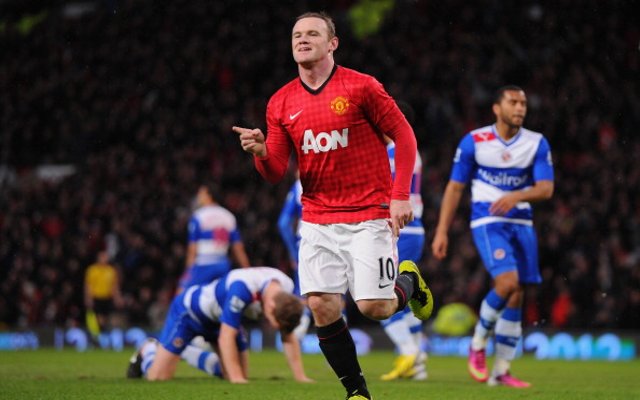 Their form continued to improve as they thrashed Wigan 4-0 and won 2-1 against Liverpool at Anfield. However, they were victims of a shock home defeat to Tottenham as their defence was again exposed as they were beaten 3-2, losing to Spurs at Old Trafford for the first time in 23 years. This was only a minor blip though, as they beat Arsenal 2-1 and staged a remarkable comeback from 2-0 down to beat Aston Villa 3-2 at Villa Park.
There was another small blip as they were surprisingly beaten 1-0 away to Norwich City, though they were making good progress in the Champions League and were from that point onwards unstoppable in the Premier League, going 18 games unbeaten as they quickly established themselves as firm favourites for the title. Despite their defensive frailties remaining clear, they were simply too good in attack and their rivals too inconsistent to stop them, as the likes of Manchester City and Chelsea's form dropped and they fell away from a serious title challenge altogether.
Their fine run of form included a crucial 3-2 win against City at the Etihad Stadium, with van Persie's late winner really rubbing salt into the wounds of City manager Roberto Mancini who'd tried so hard to sign the Dutchman. There were also thrilling 4-3 wins over Reading and Newcastle that made United one of the most entertaining sides in the country to watch. There were also 4-0 thrashings of Wigan and Norwich and a 2-1 home victory over rivals Liverpool along the way, with van Persie proving the star of the league season with some prolific form.
However, there was to be disappointment in the Champions League as United were narrowly beaten 3-2 on aggregate by Real Madrid. They put up a strong display in the Bernabeu, taking the lead through Danny Welbeck, only to be denied by an equaliser from their former player Cristiano Ronaldo. The United legend would then come back to haunt his old fans in the second leg as he scrambled home the winner in a 2-1 victory at Old Trafford. Nani's red card proved to be a turning point in that game, which left Ferguson seemingly inconsolable after the match.
During this time, van Persie also went on something of a goal drought, failing to find the back of the net for ten games in all competitions, as United were also knocked out of the FA Cup by Chelsea, who won a replay at Stamford Bridge after pegging United back from 2-0 down in the first game at Old Trafford. The league was still in the bag, but it was the only trophy on offer now after a quick-fire exit from Europe and the cup.
There was also a bit of a wobble as their first defeat since November came as rivals Manchester City visited Old Trafford, winning 2-1 with a late goal from Aguero. United's pride was temporarily hurt, but it would have no significant impact on the destination of the title.
Van Persie found his scoring boots again with a goal in a 2-0 win at Stoke, and the signing from Arsenal confirmed himself as United's hero for the season as his stunning first half hat-trick against Aston Villa gave United a 3-0 win at Old Trafford and wrapped up title number 20 with four games to spare. His second goal that night was a superb volley and a contender for goal of the season, proving himself to be one of the signings of the season, as Ferguson's feeling that he would deliver the title turned out to be correct.
United played out their final few games, drawing 1-1 with Arsenal and losing 1-0 at home to Chelsea, but before their home game against Swansea it was confirmed that legendary manager Sir Alex Ferguson would be retiring at the end of the season. His replacement was shortly afterwards confirmed to be Everton's David Moyes, and the manager was given a hero's farewell in his final game at Old Trafford as a late Rio Ferdinand winner gave his side a 2-1 win over the Swans.
Their final game was a bizarre encounter, as they drew 5-5 with West Brom, but this highly entertaining clash was fitting of Ferguson's last game in charge, and didn't spoil the party for the newly-crowned champions.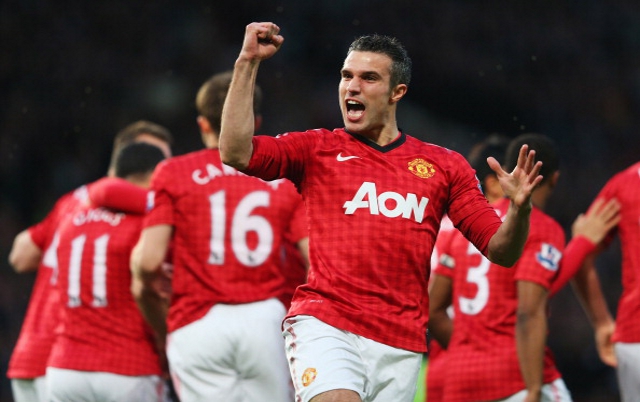 Best player: Robin van Persie
A few eyebrows were raised when this 29-year-old injury-prone striker was signed for big money from Arsenal, but he was worth every penny as his 26 league goals delivered the title and won him the golden boot. His goals were, as ever, all of immense quality, and there's no doubt he made the desired impact as he was signed from under the noses of rivals City, and ended up ensuring they would not win the title.
Worst player: Nani
There are a few contenders, as United's wingers inexplicably went missing this season, with Nani, Ashley Young and Antonio Valencia all going off the boil. Nani is perhaps the most disappointing as he had looked like finally finding his best form the previous year. Danny Welbeck also only managed two goals all season, and Wayne Rooney did not manage to form much of a partnership with van Persie as had been hoped.
Final grade: A
There's nothing better than winning the league, even if United should perhaps have gone further in the FA Cup and the Champions League, but claiming the title back off City in Ferguson's final season is the perfect farewell, and there's no doubt they deserved it with their results and quality of football over the course of the campaign.