Old Trafford legend claims Barcelona midfielder is number one transfer target.
Check in to Transfer Window: Done Deal Alerts
Man United will look to move 'heaven and earth' to sign Barcelona midfielder Cesc Fabregas according to an ESPN report.
Former Old Trafford legend Denis Irwin claims that Man United are closing in on a deal to sign the former Arsenal man, who he believes is destined to leave the Nou Camp this summer.
"Cesc Fabregas has zoomed up Manchester United's transfer target list to the top position and the champions are going to move heaven and earth to get him," he told the Sunday World newspaper.
"The Barcelona star wants out of the Nou Camp and United want him badly, so the deal should be done easily enough. Fabregas is just the sort of all-action midfield player United need if they are to make a run at next season's Champions League.
"Cesc won't be short of offers for I believe this is going to be a transfer season where eye-boggling amounts of money will be spent."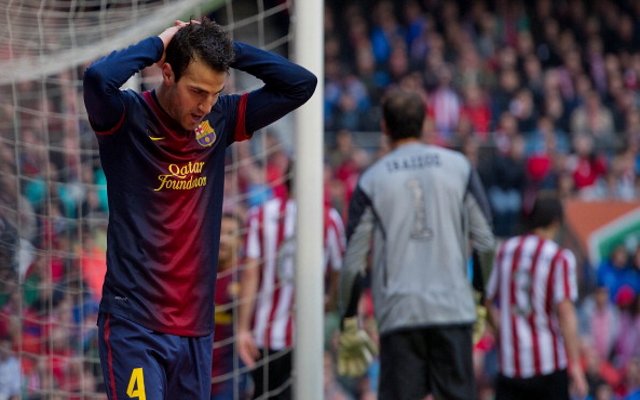 Arsenal are said to have first option to sign the 26 year old but Irwin believes that Man United are confident of winning the race to sign the former Gunners skipper.
Irwin made similar predictions about Robin Van Persie's move to club and now the Man United ambassador believes the Premier League title holders will repeat the trick with Fabregas.
The former Irish international also believes Nani and Patrice Evra will leave the club this summer and can see David Moyes making a move for his former Toffees charge Leighton Baines as well as talented Southampton youngster Luke Shaw.
"Nani will go to Monaco and Patrice Evra may well return to the same club, from whom he joined United," Irwin added.
"I've also heard a word that the new manager might have Luke Shaw at the top of his list. The teenage Southampton full-back is the latest in a long line of prodigies from that club's excellent youth system."