Arsene Wenger ready to launch record breaking bid to bring in Italian as ideal Robin Van Persie replacement.
Check in to Transfer Window: Done Deal Alerts
Arsenal boss Arsene Wenger has been given the green light by the Gunners board to launch a £32m bid to sign AC Milan starlet Stephan El Shaarawy after it emerged that the San Siro side are ready to consider offers for the highly rated Italian international.
Amid growing interest in the 20 year old Rossoneri vice-president Adriano Galliani was at pains to admit that no AC Milan player was 'unsellable' and having seen the likes of Thiago Silva and Zlatan Ibrahimovic leave the Serie A side last summer there is a great deal of speculation that a big money offer for the young forward could prove successful.
Wenger has been handed a significant transfer budget, some reports estimated this be as much as £70m, and this will also be boosted by likely summer sales as the Arsenal manager looks to trim his squad, opting for an approach pushing for quality over quantity which goes hand in hand with the North London side's push to adhere to UEFA's Financial Fair Play (FFP) guidelines.
Arsenal have a massive playing staff which saw 23 players sent out on loan spells in 2012/13 and in order to streamline his squad and cut the club's wage bill Wenger is ready to permanently sell a number of first team players to help balance the books.
Denilson, Sebastien Squillaci and Andrei Arshvin have all left the club and the likes of Nicklas Bendtner, Marouane Chamakh, Andre Santos, Johan Djourou, Park Chu-Young, Vito Mannone, Lukasz Fabianski and Emmanuel Frimpong could all be set to do likewise as Wenger conducts a major summer clear-out.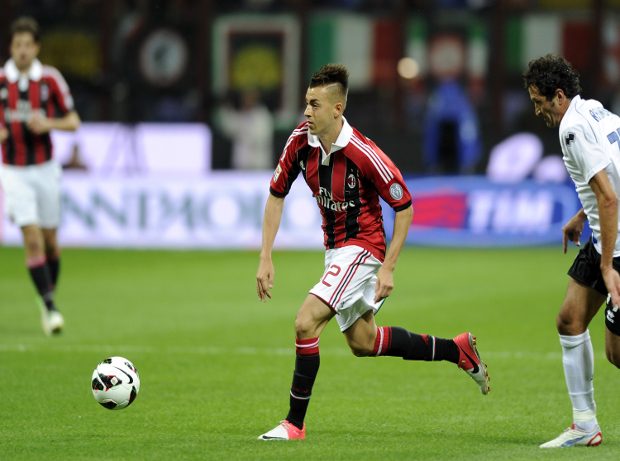 Wenger has tracked El Shaarawy for some time and has been told that Arsenal are on sound enough financial footing to be able to make such a sizable offer for the Italian and are ready to offer him a deal up to £100k a week, giving him parity with the Premier League side's big earners Lukas Podolski and Theo Walcott.
The Arsenal boss will have to convince that a move to the Emirates Stadium would be more beneficial to his long term career prospects than a possible switch to Man City, also said to be keen on the AC Milan forward, but first must be able to match a likely bid from the cash-rich Eastlands side.
Whilst £32m would be considered a mammoth sum to Arsenal, pretty much double the club's record transfer fee to date, it's by no means an unusual sum when considered against the overall backdrop of the current inflated transfer market. Chelsea invested a similar sum in Eden Hazard and Wenger is thought to rate El Shaarawy in the same bracket and after an excellent season in Italy's top tier in 2012/13 it's hard to disagree.
El Shaarawy was thrown in at the deep end to sum degree as AC Milan boss Massimiliano Allegri looked to the former Genoa man to fill Ibrahimovic's boots up front and it's a role the starlet forward thrived in.
'The Pharaoh' as he is dubbed by the AC Milan faithful move than delivered the goods, scoring 19 goals in all competitions and in the second half of the campaign formed an excellent understanding with January signing Mario Balotelli.
In many ways a big money offer from Arsenal for the AC Milan star is a win/win thing. After a lengthy lean period the club is keen to appease an ever restless fan-base and such a bid would be quite something of a statement of intent and a successful bid would see Wenger land one of the hottest young talents in world football.
Arsene Wenger is well aware of the financial benefits of bringing in a young talent who's sell on value can only increase, the French boss had similarly targeted Mario Gotze and was ready to make a similar size bid for the German international before it became clear that the Borussia Dortmund midfielder had his heart set on a move to join Bayern Munich.
Arsenal see El Shaarawy as an infinitely bankable asset, both on and off the field of play, and with big contract deals with Puma and the Emirates sewn up the club's money men believe a move for the AC Milan man is a shrewd long term gamble.
Wenger sees El Shaarawy as an ideal long term replacement for Robin Van Persie and is ready to pay accordingly.