Chelsea and England midfielder Frank Lampard.
Check in to Transfer Window: Done Deal Alerts
Despite his Chelsea career looking finished for the first half of this season, the veteran midfielder put in some fantastic performances to make himself first choice again and earn himself a new one-year contract, completing another excellent season for the club.
The England international first joined the club in 2001, and has confirmed his status as a Chelsea legend with a landmark 203 goals for the club. His late brace to turn around a 1-0 deficit to Aston Villa secured the record, and showed us that even at 34 years of age, he is still one of the best goal-scoring midfielders in the world.
Lampard finished the 2012/13 campaign with 17 goals in all competitions, making it ten seasons in a row in which he has reached double figures from midfield. He also weighed in with five assists, helping the Blues to a third-place finish in the Premier League and a win in the Europa League.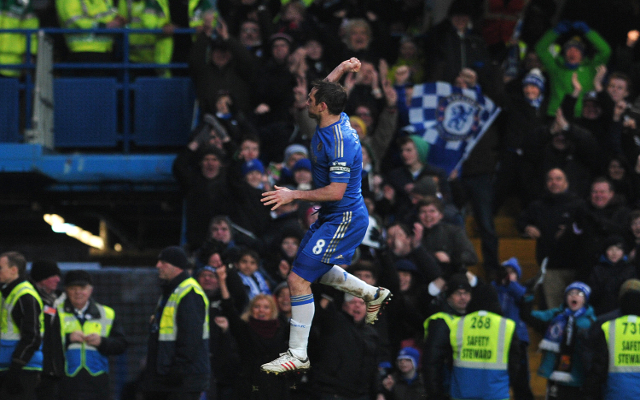 This Premier League great started his career as a youngster at West Ham, making his first appearance for the club way back in 1995 and was tipped by then-manager Harry Redknapp to make it to the top. He joined Chelsea for £11million six years later, but it was arguably not until the arrival of Jose Mourinho that he really reached his best form, becoming widely regarded as the best midfielder in the world in the 2004/05 season, when his 19 goals helped the Blues to their first league title in 50 years.
From then on, he never looked back, and continued to shine under continuing managerial changes at Stamford Bridge, equalising against Manchester United in the 2008 Champions League final, scoring a memorable winner against Everton in the FA Cup final the following year, and achieving his best individual season for goals in 2009/10, when he scored 27 times to help Carlo Ancelotti's side to the double.
As Lampard found himself out of the team for much of this season, and seemed to be waiting in vain for a new contract from Chelsea owner Roman Abramovich, speculation mounted that he could be set for a move to Monaco or LA Galaxy, but he has spoken of his delight at earning a new deal and working under Mourinho again as the Portuguese coach confirmed his return to the club this summer.
There's no doubt he will continue to be a key player for Chelsea next season, and could certainly keep going for a few years more as Ryan Giggs and Paul Scholes have managed to do at Manchester United. Regardless, Lampard is already one of the best players to ever play in this country and still deservedly among the best in the world today.