Statistical analysis of Europe's top creative talents.

It's fair to say that when you think of Europe's most creative players your mind tends to wander towards Spain's plethora of midfield talent.
Indeed, in Europe's top 5 leagues last season it was Man City's David Silva who picked up the most key passes per game (3.3) and Barcelona's Andres Iniesta who racked up the most assists (16).
The pairing, however, play for sides that boast the lion's share of possession in the majority of their games, and in turn they see plenty of the ball. In this piece we analyse a players' creativity in a different sense, regarding the fact that those who play for 'lesser' sides will have fewer opportunities to conjure up opportunities.
In turn we're looking at a less traditional statistic to gauge the players that are most creative when taking into account the amount of time they spend in possession. The leaderboard we'll be looking at here regards those with the highest percentage of their total passes that created chances for teammates, with a minimum of 20 appearances last season acting as a qualifier.
After a highly anticipated return to Juventus last summer following a successful spell with Parma, it's fair to say that Sebastian Giovinco didn't live up to the expectations of all of the fans. He was in and out of favour with coach Antonio Conte in the second half of the season and although he proved to be a capable creator a tally of just 7 league goals was modest at best. The miniature Italian picked up an impressive 6 assists, however, with 8.1% of his total passes being key here.
An impressive season from Torino winger Alessio Cerci saw the 25-year old earn a place in Italy's national side by the time the campaign was over. He ended the season with 8 goals and 8 assists, with the latter tally twice that of any teammate. He didn't, however, see a great deal of the ball, with ten first team regulars averaging more passes per game (21.4), but having made 1.7 key passes on average, 8.1% of his total set up chances for teammates.
Saint Etienne summer signing Romain Hamouma had fallen out of favour somewhat by the end of the season, with recently departed star man Pierre-Emerick Aubameyang often moved into his position on the right to accommodate for Brandao. The 26-year old did contribute in a creative sense, with 1.4 key passes per game, but was on the periphery of the action a lot of the time. Nevertheless, when in possession he was very effective, with 8.2% of his total passes creating chances for others.
One winger who was more of a regular fixture for his side was 28-year old Jefferson Farfan. The Schalke man was exceptional at times in the Bundesliga, ranking second in the division for key passes per game (3.1). In turn his overall pass count was far superior to much of the competition here, with 37.8 per game an impressive figure for a wide man, signifying his importance to the side. With 8.2% of his overall tally being key passes, he certainly stands out in this leaderboard.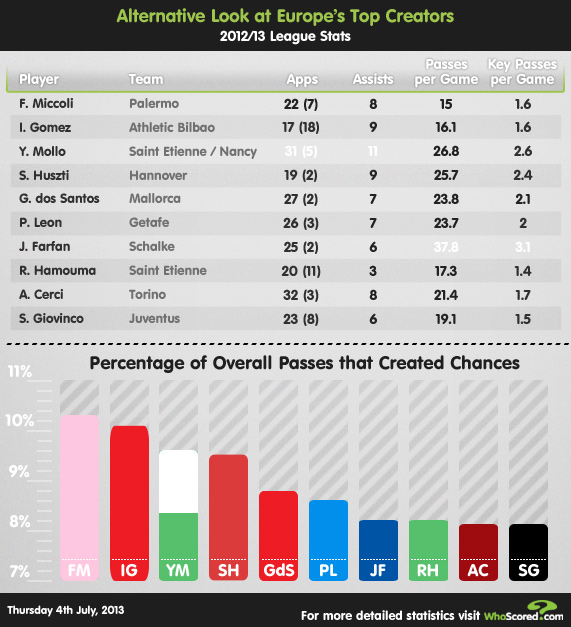 After an unsuccessful stint with Real Madrid, having become somewhat of a comedic figure at the Bernabeu, Pedro Leon's return to Getafe was welcomed by all parties. His performances on loan last season earned the 26-year old a permanent return to the Coliseum Alfonso Perez and he's cherished back at his former club. He ended the previous campaign with a team high of 7 assists having averaged 2 key passes per game. With 23.7 overall passes a match, 8.6% of those created chances for teammates.
Not for the want of trying, some eye-catching performances from Giovani dos Santos were unable to see Mallorca avoid relegation last season. The former Barcelona and Tottenham youngster has become something of a 'nearly' man, remaining on the outskirts of the Spurs side despite showing promise at Barca and for the Mexican national side. A permanent move back to La Liga helped him find his feet again, with 6 goals and 7 assists, and he'll be back on the radar of a number of European clubs having seen 8.8% of his overall passes set up chances.
After a sensational start to his spell at Hannover having joined from Zenit last summer, Szabolcs Huszti's season was cut short by injury back in February. Despite only starting 19 league games the Hungarian ended the campaign as the German outfit's second top scorer and leading 'assister', with 9 apiece. He saw a decent amount of the ball out on the left, averaging 25.7 passes per game, but still managed to procure a figure of 9.5% when looking at the percentage of those passes that were key, with 2.4 per game.
It's unknown as to whether a successful loan spell will have encouraged Saint Etienne to complete the permanent signing of Yohan Mollo, with the player's attitude seemingly the only stumbling block, but his January arrival certainly led to limited chances for the aforementioned Hamouma. However, Mollo's standing further up the leaderboard here justifies his inclusion in les Verts side in the second half of the season, with 9.6% of his overall passes over his time with Galtier's side and parent club Nancy creating chances for teammates.
At Athletic Bilbao, the figures of left-winger Ibai Gomez certainly stood out last season. The 23-year old ranked second for his team in terms of key passes per game (1.6), but when considering 18 of his 35 appearances came from the substitutes bench his figures are even more impressive. Gomez was not only on the fringes of the first team but of the play at times last season, averaging fewer passes per game (16.1) than any other player to start more than 5 times. However, when he was involved a hugely impressive 10.1%% of his overall passes created chances for teammates.
At the top of the list, proving that he still has a lot to offer, despite any future all but certain to lie away from Palermo, is 34-year old forward Fabrizio Miccoli. The veteran saw his superb spell with the Sicilian club, becoming the side's highest top-flight scorer over the last 6 years, soured following disagreements with the board and a scandal surrounding recorded comments with regards to the mafia. On the field, however, he was still a key player in Palermo's eventually failed attempt to avoid relegation. The front man picked up 4 times as many assists as any player still at the club (8), and having averaged just 15 passes per game, 10.3% of his overall tally set up chances for those around him.
View more delicious stats at WhoScored.com and follow them on Twitter @WhoScored