Emirates Stadium striker running out of options.
Still in search of a new club, Nicklas Bendtner is wasting his preseason and is at risk of ruining what was once a promising career unless he brokers a deal with someone soon.
Arsenal are on their way to becoming a title-challenging outfit in his absence, and there were reports linking him to Bundesliga outfit, Eintracht Frankfurt, yet those have gone cool over his staggering wage demands.
Instead, the Dane is holding out for a lucrative offer and there is talk in the sports world he is about to join Hull City, yet a lowly Premier League return may not be enough for this confident international star.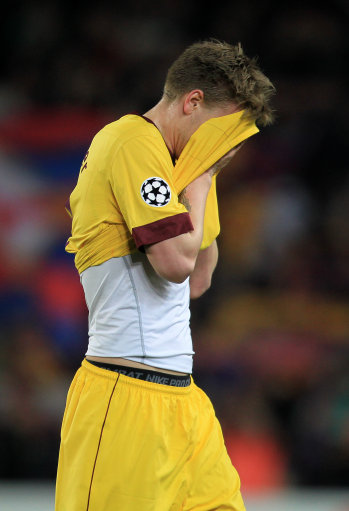 Bendtner is no stranger to being a big fish in a big pond. He was the best player to come out of FC Copenhagen's youth set-up in a generation and was tipped by Arsene Wenger to make a huge impact at Arsenal. Bendtner utterly failed in that respect – netting a goal every five games or so – and loan stints at Birmingham and Sunderland yielded little reward for either club or player.
Not even a loan spell at Italian champions, Juventus, could inspire a career reversal; nine appearances failed to produce a single goal in what fans see as his worst season to date.
Bendtner is a player whose value has fallen so low, he is now courting relegation-threatened clubs in the Bundesliga and Premier League – yet expects the wages paid by title challengers.
It is as though this man lives in an exterior reality – potentially developed through his big-name status at Copenhagen and Arsenal – that makes him feel impervious to the market forces other footballers come under.
Last week, news in the Danish press revealed the 25-year-old got into a nightclub fracas with a leading Scandinavian celebrity. His former Arsenal teammates, the Frankfurt squad and, no doubt, Steve Bruce's men at Hull were all training hard the same day. Maybe Bendtner needs to get his priorities right and focus on rebuilding his career.
Nicolas Anelka did the same thing when he joined Bolton in 2006. His career had gone askew and following two years of hard work and commitment earned a big-money move to Chelsea and a large medal haul. If Bendtner wants to make anything of his career he must follow the Anelka initiative and grow up. Otherwise, he'll be retired and running a bar in Puerto Banús by the time he's 30.