Nou Camp side ready to accept Old Trafford offer.
Check in to Transfer Window: Done Deal Alerts
Man United look set to complete a deal to sign Barcelona midfielder Cesc Fabregas.
Having failed with previous bids for the Spanish international CaughtOffside understands that the Nou Camp side have accepted a £35m offer for the 26 year old former Arsenal skipper.
Barcelona had publicly stated their insistence that Fabregas is not for sale but have privately been ready to consider offers they feel meet their valuation of the attacking midfielder and now the chances of any move to Old Trafford rest solely with the World Cup winner.
Arsenal have 'first refusal' on any deal should Barcelona indeed accept any offer for Fabregas but Arsene Wenger isn't interested in re-signing the former Gunners captain as he feels other areas of his Emirates Stadium squad are in far more urgent need of attention, hence the club's continued pursuit of a number of potential striker signings.
Barcelona are also looking to address a real 'problem area' of their own and that comes in the form of a complete lack of strength in depth in relation to their lack of central defensive options and it's this area that the La Liga side are hoping to address this summer but have to look to finance any such move by offsetting the cost by selling members of the club's squad.
To this end Barcelona have pursued a number of possible purchases, with the likes of PSG's Thiago Silva and Borussia Dortmund centre-back Mats Hummels topping their 'wish-list', which would cost a hefty price.
This in part would be the driving factor in the Catalan side's willingness to 'do business' with Man United.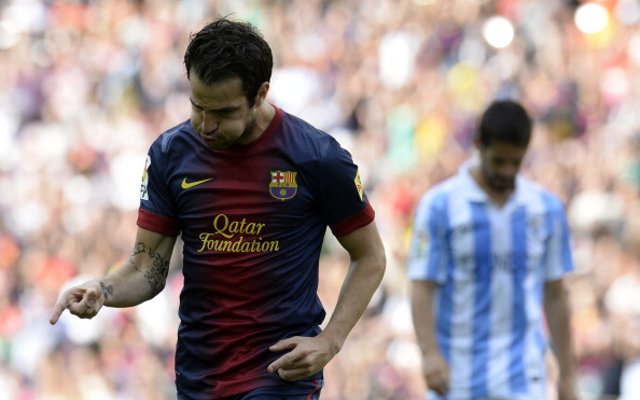 Barcelona spent £48m to bring in Brazilian international Neymar and though the club sold David Villa and Thiago Alcantara to Atletico Madrid and Bayern Munich respectively the deals covered barely a half of the fee paid to Santos and as such president Sandro Rosell is ready to concede the sale of Fabregas.
Cesc Fabregas will now have to decide where his future lies. Man United have made previous increased bids for the talented Spaniard seemingly in the knowledge that Barcelona were willing to sell a player who had arguably failed to live up to their expectations.
If the Nou Camp side have indeed accept an offer for his services then clearly Fabregas would be forced to re-think his own stance which appeared to revolve around a renewed desire to prove himself at the club he joined as a ten year before leaving for Arsenal in 2003 where he proved a massive success, making over 300 appearances for the North London club but only securing a single FA Cup final triumph in the course of his eight season spell in the Premier League.
A return to the English top tier will surely tempt Fabregas and a move to a side that can genuinely challenge for major honours will seemingly be preferable option to a potential return to an Arsenal side who haven't progressed since he left two years ago.
Some will argue that talk of Fabregas not being an integral member of the Barcelona squad will point to the fact that the midfielder started 30 of the club's 38 La Liga fixtures last term. However this masks a fact that the adaptable player was used in various positions, in central midfield, in an advanced midfield role, at times in a wide attacking role and even occasionally as a 'False Nine'.
This has led many to believe that Barcelona are still unsure how to get the most out of the player. The fact that Fabregas started crucial Champions League fixtures against AC Milan, PSG and Bayern Munich on the bench is however very telling and is in many ways similar to the manner in which Wayne Rooney was treated by Man United last term.
David Moyes is said to have made Cesc Fabregas his number one summer transfer target and the Man United board are backing him to the hilt knowing that a 'Marquee' signing will go some way to appeasing doubters who feel that the retirement of Sir Alex Ferguson has damaged the Premier League title holder's standing.
Cesc Fabregas can provide Man United with a creative forward thrust their midfield so badly needs and the signs are that such a move is edging towards becoming a reality.