Old Trafford side hot on the heels of Nou Camp star.
Check in to Transfer Window: Done Deal Alerts
Man United boss has confirmed that his Old Trafford side have made a second official bid for Barcelona midfielder Cesc Fabregas according to Sky Sports.
The Premier League title holders have improved their initial bid with an offer of £30m, plus add-ons, but the La Liga side will hold out on making any decision on the future of the 26 year old Spaniard until they have appointed a successor to Tito Vilanova, with the Barcelona boss resigning after suffering a re-lapse in his fight against cancer.
Moyes publicly discussed his pursuit of Fabregas during a press conference in Yokohama, stating;
"As I understand it, Ed (Woodward, Man United executive vice-chairman) had a response (to the first offer). We have made a second offer but Ed is dealing with it rather than me."
The Scot went on to discuss his summer transfer plans in more detail;
"When I got the job, I was made aware of what could possibly be done to improve things.
"Signing a midfield player was one area where we thought we could possibly add to the squad.
"It's hard to get top quality players who can come in and affect your team. That's why we're trying to go for what we see as the right players and the best players.
"If you're a player and you're brought up to play football, and you look out of the window and see Old Trafford, if you've got any ambitions about being a footballer, and you're a top-end one, then I think you'll want to play for Manchester United."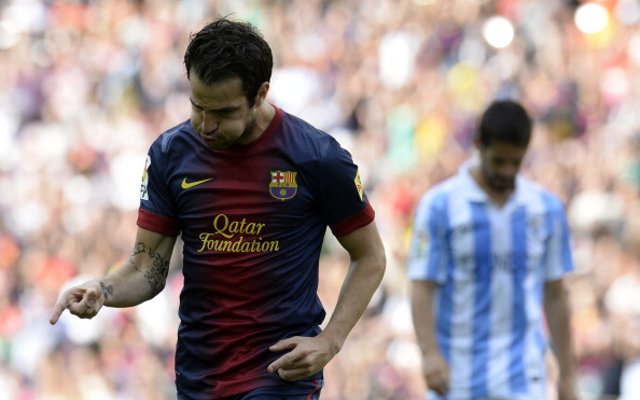 Moyes's decision to discuss the matter publicly can perhaps be deemed as a further attempt to engage directly with Fabregas, making it abundantly clear that Man United have set their sights firmly on the former Arsenal man.
Though talk of Fabregas playing a less prominent role at Barcelona than he would have hoped for is perhaps disingenuous given the midfielder made more La Liga starts than any other outfield player at the Nou Camp last term it is also true that the World Cup winner was dropped to the bench for crucial Champions League encounters against PSG, AC Milan and Bayern Munich.
Moyes may well feel the need to strengthen his midfield given that Paul Scholes has retired for a second time. The Man United boss will also be without Darren Fletcher, who has confirmed he will miss the start of the upcoming campaign.