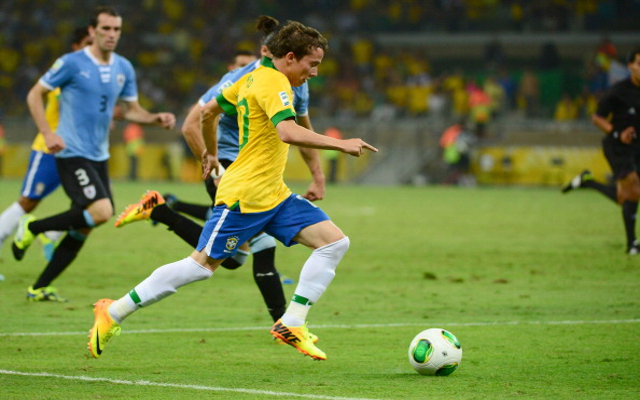 Bernard- Atletico Mineiro
Although Bale was a winger and a goal scorer, he also set up plenty of goals for Spurs through his excellent passing ability and vision. He could create chances for strikers out of nothing and that quality will be missed if he does make the move to the Santiago Bernabeu. Spurs will need to replace Bale with a player that has vision and enough quality to create a chance out of nothing and Brazilian Bernard is certainly able to do that. Bernard is regarded as one of Brazilian footballs brightest talents, having played a big role in his country's recent Confederations Cup win. The player could be a part of his country's midfield for the next ten years and may have a crucial role to play for Brazil at next summers World Cup. Before then, he may end up moving clubs and it has been reported that he could make his way to the Premier League this summer.
For a player of his talent, it was only a matter of time before he made his way over to Europe, with many of his countrymen plying their trade in one of the continents big leagues. Spurs are reportedly one of the many clubs that are interested in signing Bernard this summer and he could be the man that they choose to replace Gareth Bale. Bernard would be given time to adapt to the Premier League, in much the same way that Luka Modric was during his early days in England's top flight.
If he reaches his potential, Bernard could be a fantastic player for Spurs, someone who is capable of supplying deadly passes for strikers to run onto. However, Spurs will face competition for the signature of Bernard, with Arsenal and Liverpool known to be interested in signing the young midfielder. The Gunners may have the edge over Spurs at the moment as they can offer Bernard Champions League football but if the club do sell Bale then they will be able to offer the midfielder more money, which could be crucial in persuading the player to move to White Hart Lane instead of the Emirates.